Pet Sitter, pet parent, human parent – Brooke is the ultimate carer. A Pet Sitter in Alawa NT, Brooke and her family (along with their Yorkiepoo) care for furry friends of all types. Learn all about Brooke's Pet Sitting method and you'll see why she's our March Pet Sitter of the Month!

Why do you love being a Mad Paws Pet Pet Sitter? 
We get to have fun with all kinds of different dogs and enjoy meeting their Owners.
It's a great feeling to be able to reassure people that their loved pets will be treated like part of our family.
What's your favourite thing to do with your furry clients?

 
For dogs that love the water, playing in the pool to cool down is definitely a favourite activity. Night time cuddles on the couch is always nice.
What was the first pet you ever owned? Do you have your own pets now?

 
My family had a cat called Blackie when I was very young. Now I'm more of a dog person and have a 7-year-old Yorkiepoo called Pepper. Dog Sitting gives Pepper furry companions, although I'm not sure she's always impressed with having to share her toys and pats!
Do you have any particularly memorable furry guests?
One of the funniest moments was when Doug the Pug hopped into the shower with my 2-year-old daughter. Tupac the German Shepherd was always a special guest; he was such a sweet boy. One day I opened the door and didn't think to check if he was wet. He came inside straight after a swim and shook water and mud everywhere!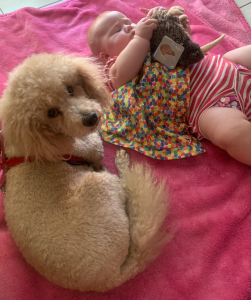 If your furry guests could talk, what one question would you ask them at a Meet & Greet? 
"What can I do to make you feel safe and comfortable?"
What's your one top tip for new Pet Sitters?
Don't forget to send updates and photos to your clients. Knowing that their pet is having an awesome time let's them relax and makes them more likely to book you again.
Comments
comments