There's nothing quite like dogs with beards to brighten your day. If you're searching for doggie scruff to match the best beards of our time – from Dumbledore's distinguished locks to Jason Momoa's impressive facial hair – look no further than this list of the best dog breeds with beards!
Have a bearded pup that could use some extra exercise? Book them a dedicated local Dog Walker!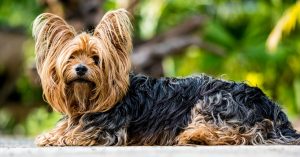 If you couldn't tell that the Scottish Terrier was a regal, proud, and proper dog, that impressive beard says it all. This dog has brushed shoulders – and facial hair – with Europe's most powerful rulers, so the royal beard is fitting, to say the least!
The Old English Sheepdog has some of the most luxurious beards of the doggie world. They can thank their furry breeding line for that. This dog breed was developed with help from the Bearded Collie and French Briard, two dog breeds with reputable beards.
The Shih Tzu needed a beard that could be memorialised in Buddhist temples across China and Tibet. So, it's no surprise that they've got one of the most regal doggie beards you'll ever come across. This lion-like facial fur is some of the silkiest hair you'll find on a pup, and it has to be trimmed regularly so that this little doggo doesn't trip over its own lush locks.
#5: Wire-haired Vizsla
Cousin to the well-known Hungarian Vizsla, this dog has amazing facial fur that is sadly overlooked in most discussions of doggie beards. Its wire-haired fur gives this dog one of the goofiest and most lovable whiskers of all dogs with beards. If these dogs were humans, they would be right at home with the curly-mustached men of the 1800s. Put a pair of wire-rimmed glasses on them and you've got an Instagram sensation.
You might have seen these adorable little white fluff balls with a common short haircut. But, when they're able to grow out their naturally wonderful beard? Well, you'd be hard-pressed to find a cuter bearded pup. A beard this snowy-white takes effort to maintain, so you're most likely to see the full beard on a Maltese in the show ring. Our favourite part of this dog's show dog look is the combination of flowing beard with top knot. It's simply the best.
When this pup was developed in the mining communities of Yorkshire, it wasn't the beard that made this doggo look rugged. Rather, it was this little dog's bravery and work ethic that set this dog apart from the rest. In all honesty, we think that the beard actually makes this pupper look quite comical, but we wouldn't dare tell that to their faces.
Alright, the truth is that all -oodle hybrids have pretty admirable facial hair. But the Bernedoodle has a special place in our hearts. There's just something so adorable about the Bernedoodle whiskers that makes them one of the most memorable dogs with beards. With a personality as cuddly as the Bernedoodle, you and this dog can enjoy hours of luxurious chin scratches.
It can be hard to know where this dog's beard ends and where the rest of its considerable mop of fur begins. Regardless, this is a dog with a mane of epic proportions. Many Owners choose to mat this pooch which cuts down on grooming requirements and tips this dog into hypoallergenic territory. Either way, it's got a beard that will take your breath away.
What are your favourite dog breeds with beards?
If you're a dog beard enthusiast like ourselves, let us know! Share pictures of your bearded pups or let us know of your favourite dogs with beards so that we can continue to enjoy these mood-boosting pooches!
Comments
comments