In this month's Dog Breed Corner, we cast our eye on the pint-sized Scottish Terrier! Check out the Scottish Terrier's origins, traits, trainability, living needs, and more. Are you searching for a Dog Minder who knows what makes a Scottie tick? Book a Mad Paws Pet Sitter in Brisbane, Perth, or wherever else you need one!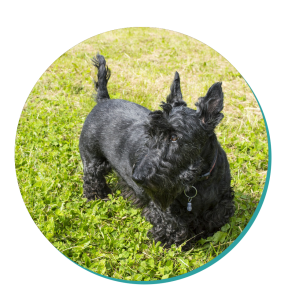 Quick Facts ✔ ​
Height – 25 – 28cm
Weight – 8 – 10kg
Lifespan – 11 -15 years
Country of origin – Scotland
Breed type – Working Dog 
Best breed for: 
Owners committed to training
Apartment living
Personal watch dog duties 
Scottish Terrier Breed History

 

♜
One look in a Scottie's intelligent eyes and you know there's got to be a good story to this breed. And you would be right.
The Scottish Terrier may be one of the oldest breeds in what's known as the Highland Terrier group. The breed was most likely developed in the highlands of Scotland, where these brave little doggos could dig up and chase out any animal considered to be a pest to local farmers. That could include foxes, rats, weasels, or badgers, some of which were similar in size to this little doggo.
But just how old are they? While no one can say for sure, it's possible that the breed dates back as far as the 15th century. How do we know? Because in 1830, a historian named John Leslie may have referenced them in his book The History of Scotland, 1436-1561. In his riveting text, Leslie describes a short dog with the ability to burrow into the dens of martins, wild cats and badgers. 
By the 17th century, the Scottish Terrier had become a common vermin-catching dog throughout England. King James VI of Scotland was a particular fan of these hardy little puppers, and owned many that would be considered the founding stock of the breed. When he became King James I of England, one of his notable gestures was to send six Scottish Terriers as a gift to France. Breeders there adored the digging doggos, and set about standardising the breed.
But getting to the ultimate digging expert that is the modern-day Scottish Terrier took some time. The breed wasn't standardised until the mid 19th century, when the first dog show in Birmingham, England took place. Apparently, there was so much disagreement about the true Scottish Terrier – and so many contestants trying to show false Scotties in the show – that breeders demanded a finalised standardisation by the 1870s. 
And how about that name? The word Terrier comes from the Latin word for earth, or terra, referencing their amazing ability to dig, dig, dig. In fact, a Scottish Terrier's entire body is designed for digging, from the short, powerful legs to the stocky tail perfect for balance. That strong tail doubled as an easy way for a Scottie Owner to pull their relentless doggo from out of a badger hole if need be, but they'd prefer if you would kindly keep your hands off.
Those long snouts can get right into the earth to pick up scents, and their large barrel chests are the perfect size for their powerful lungs and heart. Even their wiry, water and dirt-resistant coat is built for long, wet days digging around in the mud. Above all else, a Scottie is judged by its musculature and big boned frame. You can't help but think of a military tank when you look at this carefully bred doggo.
And while we're on the subject of names, the Scottish Terrier has had a few others, as well. The story goes that George, the 1st Earl of Dumbarton, owned a whole pack of Scottish Terriers in the late 17th century. He called these little hard-workers "diehards," and his family of Scotties, "the Diehard Pack." While diehard was a pretty apt nickname for the Scottie, it didn't stick. 
Neither did another possible name for the Scottish Terrier – the Aberdeen Terrier. Some historians suggest that the Aberdeen Terrier is actually the precursor of the Scottie, while others argue that the two dogs are one in the same. Without adequate documentation, we may never know for sure.
Nowadays, the Scottish Terrier spends less time digging up the burrows of pesky field animals and more time burrowing into their Owner's cozy bed sheets. But their dignified attitude hints at their fascinating past – from the cold and windy highlands of Scotland to the lap of luxury in the royal palace to the sunny streets of metropolitan France and now to the homes of families all over the world.
Scottish Terrier Personality Traits

 
★
If you've ever seen Lady and the Tramp, you'll know what you're in for with the Scottish Terrier. They're proud, dignified, stubborn, wary of strangers, and unshakably loyal to their friends. Owners who decide to raise a Scottish Terrier will have their work cut out for them – but it will be worth the effort.
A Scottish Terrier isn't known for being the most outwardly affectionate dog you'll ever meet. But for some Owners, that's ideal! Instead of bombarding you with an insatiable need for attention and chin scratches, this independent pup isn't likely to beg for your love. That's not to say that they're not open to a good cuddle, every now and again, especially if you're giving them a warm place to curl up while the family relaxes on the couch. And, if you're looking for a calm presence to sit with you throughout the day, the Scottie will be your steadfast companion. 
Their no-nonsense demeanour can put these dogs at odds with children who aren't familiar with their boundaries. However, once your kids learn to respect their limits, the Scottie will become a furry uncle or aunty to them. With proper training, these distinguished doggos can be amazing family pets.
When it comes to other animals, you might face a few hang ups. First of all, the Scottish Terrier evolved to be unafraid of all other animals. If you have a dog accustomed to taking on a badger, there's no chance that they'll be intimidated by a dog twice their size. For this reason, it's crucial that Scotties not only socialise from a young age, but also keep away from larger dogs who may be aggressive. 
You should also apply the same caution to smaller animals who may fall into the prey category for a Scottish Terrier. Cats, mice, and even small dogs may show up as a target on a Scottie's radar, and the hunting instinct may or may not overcome their training. Make sure to keep this in mind if you're planning on having a home filled with pets.
Trainability and Training Tips
Scottish Terriers have a notorious reputation for being hard to train. We would say, if you're going to train a Scottie, try letting go of all preconceived notions about their trainability.
Scottish Terriers can and should receive training, and some will learn more quickly than others. If you actively work on strengthening the bond with your Scottie, their loyalty will make them excellent students. Not only will they learn basic commands, but you can also take their training as far as you'd like to go. 
Despite what you might think about the Scottie's stubbornness, behind that impressive beard is a big heart. They want to do right by their Owners and will become withdrawn with harsh reprimands. For the best chance of successful training, always use positive reinforcement training techniques and go at your dog's preferred pace. 
Socialisation should also be a central theme of your training goals. This will ensure that your Scottie's aloofness towards strangers and their big-dog attitude will not get them in trouble by devolving into aggression. As with all training sessions, be mindful, patient and calm during socialisation.
Scottish Terrier Exercise Needs
Scottish Terriers are active dogs who want to be included in the fun. If you spot them at the dog park, they're likely bouncing around happily, maybe looking for a good place to dig or sneaking in to steal another dog's ball. They're just as content to walk with you on a lead around the neighbourhood, exploring all the new smells and keeping an eye out for any potential vermin. A word of caution, though: stay alert while walking a Scottie! Interesting sights and sounds can sometimes prompt them to lunge and break free. If your Scottie is prone to these excited outbursts, give a little head's up to your Dog Walker.
When it comes to their energy levels, this is a moderately energetic pup. They'll easily keep up with your family's active lifestyle, but they won't be disappointed if you're not out running marathons everyday. Somewhere between a brisk 30-minute walk and a few hours of playtime is plenty for this proud pup.
Living Conditions

 

⌂
Like many small dogs, the Scottish Terrier can be perfectly content living in an apartment – provided they receive their daily walkies. Be mindful, though, that for its Fiat-sized body, the Scottie has a Mack truck-sized bark. This can be a potent tool for scaring off intruders, and makes them great guard dogs. However, it might come to bother your neighbours if the dog barks too often. The good news is the Scottish Terrier isn't a yappy dog, and will usually only bark when they see a stranger or an animal they want to chase. To mitigate the noise, try introducing your Scottie to new people outside of your apartment, and look into our other 5 tips to ensure your neighbours don't complain about your dog.
Scottish Terriers are also happy in houses, and will have a ball in any backyard. Just keep in mind that they're world-class diggers; no flower garden is too pretty for their paws! Their digging prowess also poses risks for doggie escapees, so make sure that your backyard fence extends well below ground level. For the most part, the Scottie's digging instinct is entrenched in their personality. However, you might explore some ways to manage their destructive urges.
Scottish Terrier Grooming

 

✄
The Scottish Terrier's coat has two layers: the outer consists of wiry hair and the inner, downy fur. This allowed the Terrier to stay warm and dry even while digging into the cold wet earth. But while it was practical back in the day, it can be a bit of a chore to groom nowadays.
The good news is that shedding is minimal with this breed. However, that outer layer will keep on growing until someone trims it. As with all wiry hair breeds, stripping of the coat is a regular grooming task that you can either do at home or request at the groomers. 
In between professional grooming sessions – which should occur about every two to three months – keep a slicker brush or pin brush on hand for weekly at-home grooming. A comb can work on the longer whiskers or underbelly fur. These puppers also tend to have sensitive skin, so keep bathing to a minimum.
In addition to coat care, make sure to keep those ears and teeth clean.
Scottish Terrier Health

 

+
Although these are strong and rugged dogs, they are at risk for a number of congenital diseases.
On the one hand, there are the genetic disorders that we see in many dog breeds, such as Patellar Luxation, Hypothyroidism and Cataracts. But there are a few unique conditions to look out for as well:
Scottie Cramp. This is a neurological disorder in which an overexcited dog will experience muscle cramps and spasms. The disease is rare and not harmful.

Various forms of cancer, including mast cell tumors, melanoma lymphosarcoma, and bladder cancer

Skin conditions

Von Willebrand Disease, which is an issue with normal blood clotting
When responsibly bred and well cared from a young age, a Scottish Terrier can live a long and happy life.

Fun Fact

  

♥ 
The Scottish Terrier has served as one of eight tokens for the board game Monopoly since the 1950s. When Hasbro ran a survey in 2013 to decide which tokens should stay, the Scottie received the most votes!
And even when some of the well-loved pieces were replaced in 2017, the Scottie held its place on the game board! 
Final Thoughts on the Scottish Terrier

  
If you had only ever seen the Scottish Terrier in Lady and the Tramp, you might think such a dog could never exist in real life. So much personality, so much pride, so much beard! But it's true. The Scottish Terrier is a real-life full-of-character feisty little dog. And they're just as lovable in real life as they are in 2D form.
Even though they have a reputation for being stubborn and untrainable, Scotties are loyal, well-meaning, obedient doggos when trained properly. They can also learn to get along with animals and humans of all sizes and ages. However, Owners should practice caution around cats, mice, and other small furry friends. While they can act a bit aloof towards your friends, your Scottie will come around to them soon enough.
They have a digging tendency, a big bark, and some grooming requirements, but these puppers are well worth the effort. With a Scottish Terrier, you'll have a constant companion, and a real-life Monopoly piece!
Comments
comments