In this month's Dog Breed Corner, we cast our eye on the pint-sized Scottish Terrier! Check out the Scottish Terrier's origins, personality, trainability, grooming needs, and more!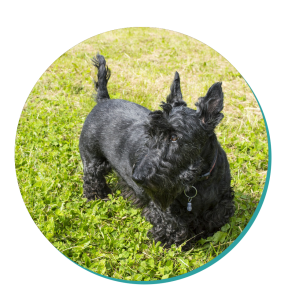 Quick Facts ✔ ​
Height – 25 – 28cm
Weight – 8 – 10kg
Lifespan – 11 -15 years
Country of origin – Scotland
Breed type – Working Dog 
Best breed for: 
Owners committed to training
Apartment living
Personal watch dog duties 
Breed History

 

♜
The "Scottie" is one one of five breeds of Terrier to hail from Scotland. Their earliest record of this breed was made by the Romans, who sighted the Scottie's forebears during their invasion of Britain. Originally named terrarii – a Latin phrase to describe those who work the earth – they became renowned for their digging prowess. 
It wasn't until the 17th century that the breed began to evolve into the modern Scottish Terrier we know today. King James I of England came to love the breed, and gifted several dogs to his French counterpart. The France-bound dogs were loved in their new home, and were bred into the present day Scottie. In the 1870s, dog breeders wrote the standard for the Scottish Terrier, and a doggy legend was born. 
Personality Traits & Trainability

 
★
If you've ever seen Lady and the Tramp, you'll know what you're in for with the Scottish Terrier. They're proud, dignified, stubborn, wary of strangers, and unshakeably loyal to their friends. Owners who decide to raise a Scottish Terrier will have their work cut out for them – but it will be worth the effort.
Because of their wilful and independent nature, Scottish Terriers will need to be trained and socialised from a young age. They have big hearts, and can feel betrayed if you tease them or treat them harshly during training. Instead, be firm and clear when giving instructions, and be sure to reward them with treats when they comply. While they can take time to warm to new people, they'll stand by you for life if you train them well. 
Their no-nonsense demeanour can put them at odds with children who aren't familiar with their boundaries. However, once your kids learn to respect their limits, the Scottie will become a furry uncle or aunty to them. Scottish Terriers were originally bred to hunt foxes and badgers, so they can pose a threat to cats and rabbits. If you're looking to start a menagerie, the Scottie may not be the breed for you! 
Finally, while they love to move around and play fetch, they don't need to run a marathon each day to remain healthy. If you walk them for 30 minutes each day, you'll have a happy Scottie on your hands. 
Living Conditions

 

⌂
Like many small dogs, the Scottish Terrier can be perfectly content living in an apartment – provided they receive their daily walkies. Be mindful, though, that for its Fiat-sized body, the Scottie has a Mack truck-sized bark. This can be a potent tool for scaring off intruders, and makes them great guard dogs. However, it might come to bother your neighbours if the dog barks too often. The good news is the Scottish Terrier isn't a yappy dog, and will usually only bark when they see a stranger or an animal they want to chase. To mitigate the noise, try introducing your Scottie to new people outside of your apartment. 
Scottish Terriers are also happy in houses, and will have a ball in any backyard. Just keep in mind that they're world-class diggers; no flower garden is too pretty for their paws!
Grooming

 

✄
On a day-to-day basis, the Scottish Terrier doesn't require too much grooming. However, they will need to have their coats trimmed and clipped every few months. That stately beard isn't going to maintain itself!
Fun Fact

  

♥ 
The Scottish Terrier has served as one of eight tokens for the board game Monopoly since the 1950s. When Hasbro ran a survey in 2013 to decide which tokens should stay, the Scottie received the most votes!
Comments
comments