You come home from a long day of work, excited to see your pup waiting to welcome you home. Firstly, though, you find a big ugly note on your door from one of your neighbours saying something like: "I'm tired of hearing your dog barking all day long. This time, I'm going to the landlord."
We understand just how defeating a situation like this can be for Pet Owners. Your furry friend is such an angel when you're home. How are you supposed to control them when you're not around?
Here are some simple solutions that can ensure your dog doesn't bother your neighbours while you're away.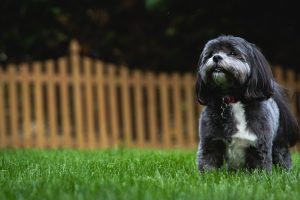 Tip #1: Be the diplomat to your neighbours
Before you focus on your dog, your first task is to smooth things over with your neighbour. To this end, bring over a little baked treat with a note saying: "I'm sorry that my pup has been bothering you! This week we start politeness training, and we'd be so grateful if you could let us know how we're improving!" You might even include a picture of your adorable pup.
Your neighbour will – hopefully! – be more understanding if you can show them that you have a real plan in place. Even including them in the process by asking them to tell you how good your doggo does will change their view of the situation entirely. They're invested, and they'll want to see you succeed.
Tip #2: Stop the barking and whining
The biggest complaint that neighbours have is barking, howling, and whining. It's remarkable just how long a dog can keep up this solo act while you're away, so it's important to address the behaviour.
Here are a few ways to combat the one dog show:
Give your pup plenty of exercise and attention, especially in the morning. Often, barking is the result of pent-up energy. Make sure that your dog is getting the right amount of exercise according to their breed and age, and you'll have a pup too pooped to bark up a storm. If you don't have time to walk them, you can always book them a Dog Walker. 
Leave them with mentally challenging games. Hide treats around the apartment so that your dog can go on a tracking mission while you're gone, or invest in some puzzle games made for pups.
Try to minimise the external stimuli. If your dog barks at every person who walks past the window, it's a good idea to close the blinds. Of course, it's a little sad to leave a dog in a closed-up apartment or house. An even better option is to train your dog to see passersby without sounding the alarm.
Recreate the feeling of home. Leaving the radio or TV on gives some dogs a feeling of comfort while you're away.
Tip #3: Avoid digging
Not only does digging drive your neighbours crazy, it can also be dangerous for your doggo. A skilled digger can escape your backyard and parade around the neighbourhood, getting into all kinds of mischief.
Here's how to stop a digger in their tracks:
Again, exercise. While digging is, for many dogs, a part of their breeding, you can curtail the urge with proper exercise. Make sure your pup gets plenty of playtime with you so that they won't be tempted to explore greener pastures.
Create a backyard fortress. If your dog is trying to escape under the fence, a simple, although labour-intensive, solution is to install a barrier along the fence. You can do this with chicken wire or cement blocks, although more dog-specific fences do exist.
Keep toys inside the house. Some doggos are just trying to keep their beloved dog toys safe by burying them underground. Keep the toys inside, and keep your dog from digging holes along the fences you share with your neighbours.
For more info, read our article on how to stop your dog from digging.
Tip #4: Call in reinforcements
Maybe your doggo is just not great at staying home alone, which means you might want to call for backup. Having your dog stay at Mad Paws' Pet Day Care even just a few times a week will make your pup, and your neighbours, happier and more relaxed.
Tip #5: Be patient, and ask for your neighbours' patience too!
Training doesn't happen overnight, and there might be some days that your pooch falls into their old ways. With this in mind, make sure to stick with your routine and keep in contact with your neighbours. That way, they'll be less likely to get grouchy.
Over time, you'll have a well-behaved doggo, and you won't worry about coming home to any negative notes tacked to your door! 
Are you looking for a Pet Day Care pro near you? We have Doggy Daycare options in Brisbane, Melbourne, Adelaide, Sydney, Perth, and all across the nation! 
Comments
comments