Name: Melanie 
Job Title: Digital Marketing Manager – Content, Social & PR
Pets: Benji (Yorkie) & Boo (Yorkie x Pomeranian)
What were you doing before Mad Paws?
It's hard to remember life before Mad Paws! I was working as an English Teacher and Head of Year in an inner London secondary school. In my spare time, I was writing a blog about dogs and making and selling jewellery via social media. When I moved to Sydney in 2016, I applied for a job at Mad Paws to combine my writing and social media experience with my absolute passion for dogs. 
What do you love the most about working at Mad Paws? 
Apart from the team, who are some of the nicest, most talented people you could wish to meet…I love the fact that I'm surrounded by pets all day long, both literally and figuratively! I love pets and so the fact I get to write and post cute photos of them all day is an absolute dream come true. The fact that there are dogs, cats and rabbits in the office on a regular basis doesn't hurt either! 
Tell me about something special you have on your desk
It's a tough one (I have lots of bits and bobs crowding my desk, including a life size golden duck) but it's probably my dog encyclopaedia. I pride myself on being able to identify pretty much any dog breed (unless they're a really obscure mix!) thanks to spending hours as a child reading dog breed books. I'm 29 now and still love coming across new breeds, finding them in my encyclopaedia and learning all about them. 
What do you spend your weekends doing? 
I love nothing more than a good brekkie followed by an afternoon reading my book on the beach. Apart from that, I try to get out of Sydney at least one weekend a month – even if it's just hiring a car and driving an hour or two outside Sydney to camp. Australia is so beautiful and diverse, I'm really trying hard to make the most of it and get out to see new places.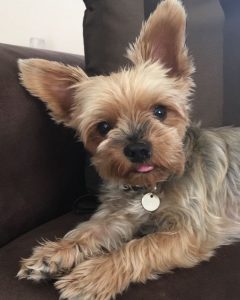 What do you have as the background image on your phone?
My dog, Benji. He's a Yorkshire Terrier who I bought when I lived in Spain and he has tons of personality. He sticks his tongue out when he's relaxed, "talks" to you when he needs something and wants to be on your knee or next to you constantly.
If you could pet sit any animal, what would it be?
A chimpanzee. I find it fascinating how similar to humans they are. It's a dream of mine to meet one in real life and I'll hopefully get to do so next year on a trip of a lifetime to a sanctuary for orphaned chimps! 
---
Quickfire Round 
Starter or dessert?
Dessert, every time.  
Pepsi or Coke?
Coke. Specifically Diet Coke, from a can. 
Silver or gold?
Silver 
Books or movies?
Books – the movies are never as good! 
Dogs or Cats?
Dogs, 100%
Comments
comments