In Cat Breed Corner this month is the Abyssinian! Check out the Abyssinian's stats, personality, health, grooming and more!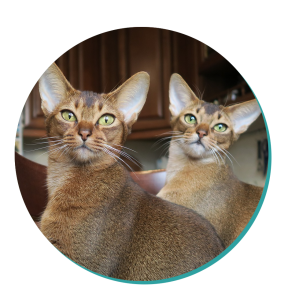 Quick Facts
Weight – 3.5 – 6kg
Lifespan – 9 – 15 years
Best breed for:
Families with/without children
Owners who work from home
Breed History 
♜
Some believe that the first Abyssinian arrived in Britain when the wife of an English Army officer brought one back from Abyssinia (now known as Ethiopia) in 1868. On the other hand, modern genetic testing suggests the breed comes from the Indian Ocean coastal region and parts of Southeast Asia. However they arrived, the first recorded mention of the Abyssinian was in 1872 at a cat show. 
Personality Traits & Trainability 

★
The Abyssinian, or Aby as they're sometimes known, is a playful and highly intelligent cat. If you're looking for a breed who will idly lay in your lap all day long, the Aby is probably not for you. Clever and inquisitive, the Abyssinian will keep his owner on their toes! They want to climb higher, jump further and explore more than many other breeds and will provide endless entertainment for their human! Although they love to be the centre of attention, a stream of new, challenging puzzles and toys will keep your Aby entertained and out of trouble. The Aby has a love of heights so be prepared to find him perched on top of the fridge, blinds or bookcase!
Grooming

 

✄
The Aby has a unique 'ticked' coat type which makes him have a slight wildcat look about him. The coat itself is easy to maintain – weekly brushing to remove dead skin and hair will be enough to keep this kitty looking and feeling great.
Fun Fact

 

♥
In 2007, scientists used DNA taken from a four-year-old Abyssinian cat named Cinnamon to create the first ever genome for the domestic cat.
Comments
comments