How are we all feeling about making New Year's resolutions this year? Are we actively planning a better year than 2020? Or does it feel like tempting fate by being too hopeful about a new beginning?
If you're struggling with the whole thing, we know someone who can help: your dog! Last month, we tapped into the doggie perspective to see How Your Dog Has Felt About 2020. And now, we're going to see if they have some woofs of advice for 2021 New Year's resolutions.
These imagined doggy resolutions might inspire you to set your own goals for the New Year!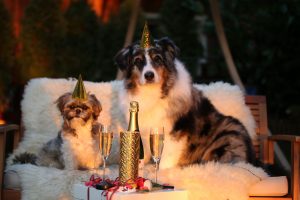 "More walkies"
When we started working from home in 2020, our pups got a lot more attention than usual. But with the lockdown measures and smoke from the bushfires, there were fewer chances for full-length walks. 
In 2021, dogs everywhere are going to break out their best moves to see if they can convince their humans to take them on more walks. And, we think that's a great idea! 
Walking is a wonderful habit that can improve heart health, reduce stress, and encourage the release of endorphins in the brain. For your dog, it's a great opportunity to get the mental stimulation and exercise they need to be healthy.
Given the benefits for you and your pup, you might want to add walking more to your New Year's resolutions. And if you can't take your dog out yourself, you can help them stick to their New Year's resolution by calling in a friendly Dog Walker!
"Spend more time exploring our home turf!"
This is another doggy New Year's resolution that we humans can take a lesson from. Because, while international travel may still be limited in 2021, we can spend the new year exploring the beauty of our own backyard. Just like your doggo goes wild every time you let them run free in the yard or park, you can hop in the car or camper and find unique, exciting destinations close to home. 
And, the best part is, traveling domestically is easy to do with your dog in tow. Check out our recent article, Should City Dogs Spend Time in the Country?, to learn about how Mad Paws Sitters can help you with your domestic travel plans!
"Make time for cuddles"
In 2020, your dog might have become a cuddling champion. Maybe they curled up with you for hours of quarantine binge-watching. Maybe they claimed a space in your home office where you could easily reach over with some ear scratches. 
And, with this new cuddling habit, you can bet that your pup will only want to be closer to you in 2021. To be sure, it's a New Year's resolution that we humans should add to our list too. After all, the pupper hugs were one of the things that got us through the more stressful moments of 2020. And, the science shows that quality time with our pups, including those much loved cuddles, can lead to an increase in oxytocin. So, cuddle away in 2021! 
"Convince the human to bring me to work with them"
We're not going to say that working alongside our furry friends was the easiest transition in the world. The distractions in the beginning seemed insurmountable: some dogs whined for more walks, others showed off their guard dog barks, and all, at some point or another, crashed a Zoom meeting.
But, after this many months of working at home with our animals, we've got it down to a science. Our dogs are used to having us around, and we've learned the discipline necessary to overlook the puppy dog eyes when work needs to be done.
And, if you're getting ready to leave your pup at home when you go back to the office, your pooch has other plans. They're looking for New Year's resolutions that include you leading the charge for more dog-friendly offices. They've surely proved themselves to be respectful office companions, and they think they deserve a shot!
Alright, you may not be able to swing this one, but maybe you can appease your pooch by suggesting a bring-your-dog-to-work day or organising a Dog Owners social club with your coworkers. 
"Don't forget all the fun tricks I learned during quarantine"
With more quality time with their favourite humans, your dog may have learned some new fun tricks during quarantine. Maybe you worked on their agility skills by hopping on one of the viral obstacle course videos. Or, maybe you spent the extra time at home finally perfecting the classics, like shake or play dead.
Whatever new skills your pup picked up during lockdown, they're going to want to keep learning in the new year! Whether they were the ideal student or made your training sessions a challenge, your dog loved being able to learn new things. And all the while, you were offering them some valuable mental stimulation!
In 2021, keep it up by practicing what your pup has already mastered, and adding new tricks to their repertoire! Take a look at our recent article, How Do I Train My Dog to Shake Hands?, for your next training session!
Don't forget that this doggy New Year's resolution can also apply to you! From breadmaking to memoir writing to watercolour painting, you may have picked up a hobby during quarantine that can stick with you in 2021.
"Enjoy the present moment"
Alright, this one isn't really on your dog's list of New Year's resolutions. Your dog always enjoys the present moment! It's kind of their thing. 
But if you're looking for a bit of New Year's advice from your life-loving furry friend, let it be this one. Take your pup's lead and appreciate everything you can in 2021. When you're at the dog park with your pooch, show some love to all the doggos. When you're at home with Fido, give those belly scratches your full attention.
Because if there's anything that 2020 has taught us all, it's that enjoying time with loved ones is a powerful antidote to uncertainty and adversity. And that's a great attitude to bring with us in 2021.
Did your dog help you plan out your New Year's resolutions?
There's a lot that we can learn from those furry flatmates who got us through the year 2020. And we hope that by taking a look into those pure little minds of theirs, you can find some simple rules to live by in 2021. 
Happy New Year's resolution writing for you and your dog!
Comments
comments