While you're cooking up your holiday feast, you may be asking yourself, "Which Christmas foods should my dog avoid?" It's an important question, because we all know how easy it is to toss our pups a little scrap of food from the cutting board here, maybe a little slice of something from our plate there. 
Then, after an exciting day of taste-testing for your dog, you notice them feeling a bit sick. You might even find yourself Googling their symptoms or getting in touch with your vet. Without knowing exactly what they ate, it can be tough to nail down the tasty culprit.
This year, you can avoid the post-Christmas worries by getting to know which foods your dog should avoid altogether. And, we'll also throw in a few tips to make sure that your pup steers clear of dangerous ingredients even when you're not looking!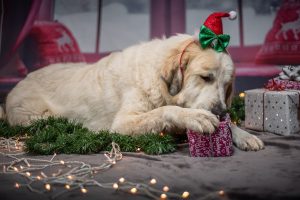 "Which Christmas foods should my dog avoid?"
Here in Australia, we put together Christmas dinners that our dogs can't help but drool over. The prawns and oysters, juicy ham, maybe even a rack of lamb. It's no wonder they seem to love this holiday just as much as we do!
The problem, though, is that with such tantalising items on the menu, your dog is liable to swallow anything you throw their way. And, even the items that may seem dog-friendly can end up being bad for your pup.
So, how can we put together a list of do and don't eat Christmas items? First, we can ask "what Christmas foods should my dog avoid because they're dangerously toxic?" And the second can add "what Christmas foods are bad for my dog's overall health?" Let's take a look at both categories!
The foods that pose a severe or immediate health risk:
Grapes and Raisins

. Grapes, sultanas and raisins, which we often use in baked goods this time of year, can cause kidney failure. 

Chocolate

. This one's no surprise, right? It's is a Christmas tradition, but chocolate is a no-go for your dog.

Macadamia Nuts

. Christmas recipes featuring macadamia nuts are an Aussie specialty, but they shouldn't go anywhere near your pup. Macadamia nuts are highly toxic to dogs, and the symptoms show up fairly quickly.

Onions and Garlic

. These cooking staples are often the most surprising ingredients on the list. Since we use onions and garlic in everything from roasted meat to dipping sauces, the fact that they're toxic means that most Christmas foods are off-limits to dogs. Steer clear of all members of the allium family, including onions, garlic, leeks, shallots and chives.

Cherries

. If your dog scoops up a single cherry that fell off your Christmas pavlova, there's probably nothing to worry about. But if your house guests have been feeding your dog cherries throughout the day, you might have a problem. Cherries contain enough cyanide to pose a risk to your pup, and the pits can cause intestinal blockage that could potentially require surgery. 

Bones

. A dog and a bone is the perfect image for a successful Christmas, right? And you wouldn't want to waste all the meat on that ham bone. The trouble is that cooked bones and bones that are too small can sliver and crack, creating huge digestional problems for dogs.

Sweeteners like xylitol

. If your family opts for no-carb Christmas pudding or other diet sweets, even a few nibbles could send your dog to the vet office. 
And, here are the Christmas favourites that may not be toxic for your pup, but probably shouldn't make their way off the table anyway:
Anything containing lactose
These three categories of food, which make up so much of our traditional Christmas meals, could cause digestive discomfort for your pup. On top of that, the added sugar, salt, and fat in these tasty dishes can detract from your dog's overall healthy lifestyle.  
"What should I feed my dog for Christmas?"
At this point, we're coming off as Christmas curmudgeons, telling you that your dog can't eat anything good on Christmas. But, there are a few items that you can safely give your pup on the big day that won't cause concern:
Carrots

Broccoli

Cabbage

Apples

Mango

Pears
You may notice that these dog-friendly ingredients are likely to be on your Christmas table in one form or another. That means that you'll be able to set aside a small portion of them for your dog to nibble on throughout the day!
You may remember from our article, Should My Dog Eat Vegetables?, that even these healthy fresh treats should be eaten in moderation. So, ration out a small bowl of  chopped up fruits and veggies, and make sure it's kept away from the Christmas cooking area.
Here's another great Christmas day tip that will keep your dog from begging around the table: feed them their Mad Paws Dinner Bowl at the same time that you're having your own feast. If your pooch is served up a bowl of raw, fresh, human-grade food, they're not going to feel left out of your Christmas feast. In fact, they may be feeling like they got the best meal on Christmas!
"How can I keep my houseguests from feeding my dog?"
It's one thing to ask yourself: "Which Christmas foods should my dog avoid?" and quite another thing to ask: "How can I keep my houseguests from feeding my dog at Christmas?" Don't worry, we've got you covered:
Be clear, but make it cute
The best way to keep your guests from feeding your dog is to lay out the ground rules as soon as possible. But, you also don't want to alienate your friends and family. So, you might include a short and sweet note in your invitations or put up a funny, but clear sign at the entry of your home. 
Reassign your biggest offender
You know who this person is. Your dog follows them around all day because they know that they'll get a steady supply of morsels and meat slices. Instead of going head-to-head with the culprit, put them in charge of that bowl of dog-friendly treats. They'll still get a great bonding opportunity with your dog, and you can keep them on your guest list for years to come.
Remember to align your feast with Fido's
This is a big one! Your dog has been practicing their puppy dog eyes all year for this very moment, and the best thing you can do is cut their stage time short. Feeding your dog their dinner at the same time that your guests are sitting down for the big meal will give them fewer opportunities to convince your houseguests to throw them some under-the-table scraps. You might even serve their meal in a slow-feeding dog bowl so that your guests have more time to eat without your hovering pup.
Don't be afraid to say something
At the end of the day, you want your pupper to enjoy Christmas without a stomach ache or a trip to the vet. So, if you see someone sneaking potentially dangerous foods to your dog, don't hesitate to remind your guests why your dog shouldn't eat certain Christmas foods. 
Now you know the answer to "which Christmas foods should my dog avoid?" But that doesn't mean that Christmas with your pupper will be disappointing!
To be sure, the list of Christmas foods that dogs shouldn't eat is pretty long. But that doesn't mean that your pup is destined for a disappointing Christmas. With a few simple swaps, like feeding your dog bits of carrot instead of hunks of seasoned prawn, your pooch will still feel like they're getting special treatment.
Now that you know the answer to "Which Christmas foods should my dog avoid?", how do you plan on pampering your pooch this holiday season?
Comments
comments