It almost goes without saying, but a love of pets is pretty much a prerequisite for working at Mad Paws. After all, it comes with the territory when your goal is to make Pet Ownership easier for all Australians. While all of our HQ staff love furbabies, there are those among us who bring our furry friends into the office. And since these dogs and cats brighten our days, we thought they should brighten yours as well! Below are the Mad Paws pets who grace our workplace and remind us of what's important in life: furry cuddles.
Ollie
Human: Emily T from the Product Team
Breed: Mixed (Rescue Dog)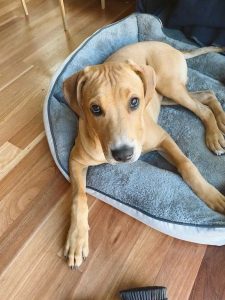 During COVID-19 quarantine, Emily and her husband welcomed Ollie into their home as a foster dog. After a few short days, both of them had fallen in love with him, and asked about adopting him permanently. Now, after four months, Ollie has changed their household for the better. A constant companion to Emily, Ollie often joins her during her time at Mad Paws HQ – and puts a smile on everyone else's faces in the process. At the date of writing, he's six months old and weighs 27kg, meeting the textbook definition of "gentle giant". Indeed, Ollie makes friends wherever he goes…although, according to Em, his favourite thing may well be the humble broom. Apparently, Ollie views every cleaning session as play time, and has decided the broom is his favourite toy!
Schnoozy 
Human: Thomas from the Content Team
Breed: West Highland White Terrier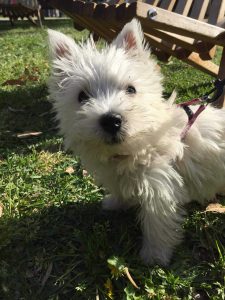 While Schnoozy is the smallest pet on this list, you certainly won't fail to notice when she's in the room. In true Terrier fashion, Schnoozy has a way of taking up as much space as possible by darting around, demanding head scratches, and stealing things she shouldn't. Another COVID addition to the Mad Paws Family, Schnoozy joined Thomas and his wife at 10 weeks of age. Four months later, Schnoozy has become Ollie's partner-in-crime; whenever the two of them are in the office together, you can be sure that hijinks will ensue.
As large as Schnoozy's personality may be, it pales next to big love she shows friends and strangers alike. Just don't let her stare at her reflection for too long – she doesn't yet trust that dog in the mirror.
Lockie 
Human: Shannon the Office Manager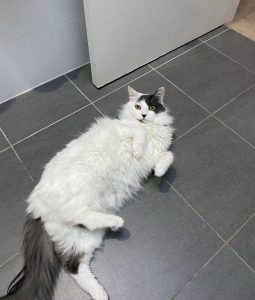 The only "office cat" on the list, Lockie has been as active in the office as any dog. Like many Turkish Vans, Lockie enjoys playing fetch – a hobby he puts to good use at Mad Paws HQ. Before Shannon started at Mad Paws in November 2020, Lockie had lived with her for eight months. While that window of time may seem relatively short, Shannon says she already couldn't imagine life without him.
Beyond being a fluffy bringer of joy, Lockie also makes a point of challenging cat stereotypes. Specifically, he loves swimming in water, which makes his bath time much easier!
Lunar & Coco 
Human: Brooke from the Customer Experience Team 
Breeds: Lunar – Jack Russell/Maltese cross; Coco – Mixed (Rescue Dog)
The ultimate Dynamic Duo, Lunar & Coco each fulfil invaluable roles in Brooke's home (and the Mad Paws office). On the one hand, Lunar is a dog who knows what she wants…and what she wants is belly rubs. To this end, she'll approach any human she sees – stranger or no – and splay out onto her back until her tummy is duly rubbed. In contrast, Coco is at her most content when she has a job to occupy her. That's why she won't greet Brooke at the end of the day until she's scoured the house for a pair of socks to parade before her.
In addition to being crucial members of our furry team, Lunar & Coco were two of the first dogs to sample Mad Paws Dinner Bowl. They're both picky eaters, so when they devoured every scrap of their meals, we knew we'd done something right.
Comments
comments