2020 has been…well, there doesn't really exist a word for it yet. In years to come, when people have a bad day, they'll likely say: "Jeez, today has been a real 2020". Of course, COVID, lockdowns, recessions, and bushfires (yep, that was this year) have chiefly been issues of concern for humans. Our dogs, by contrast, have likely had a very different take on 2020. Now, until we can fulfil our life's dream and learn Dogspeak, we can't know exactly what they're thinking. Even so, based on what we've come to understand about our furry friends, we can surmise that this is how your dog has felt about 2020.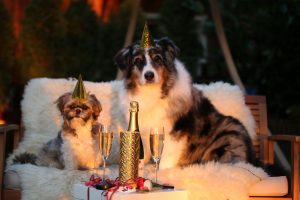 "Yay! My humans have been home much more lately!" 
With most regions implementing some manner of lockdown this year, most of us have spent more time at home. Some were able to work remotely, while others weren't able to work at all. In short, it's been a stressful year for many humans. 
Through the eyes of our dogs, though, 2020 has brought a parade of good tidings. This is because they've been able to spend more time with their favourite creatures – their humans. Instead of hovering by the door each morning, dreading the moment you leave, your dog has likely been able to spend the entire day for you. While some problems have emerged (more on that later), your dog has measured the year's success by a key metric: time with their humans. Basically, how your dog has felt about 2020 has been shaped by your increased presence at home.
"Wait…my humans seem worried. Is everything okay?" 
Like we said earlier, 2020 that thrown more than a few spanners into our communal works. For those of us with office jobs, lockdown may have seen us working in our pyjamas every day. Many of us, though, didn't even have the chance to work for much of the year. And that's not even counting those people who may have contracted COVID-19, or found themselves separated from loved ones. 
Again, these are human issues, rather than pupper issues. However, our furry friends are adept at reading our emotions; in fact, they often feed on them. When we're stressed, depressed, or anxious, our dogs worry on our behalf. At times like these, a belly rub and a few words in an upbeat tone will make a huge difference. 
"On balance, there's been less Dog Walking, but more tug-of-war. Let's call that a mixed blessing!"
Between bushfire smoke, lockdowns, and the recent spate of La Niña, many Dog Owners have struggled to walk their dogs. As such, while most dogs have seen more of their humans, some have spent less time in the dog park. Fortunately, many of these cooped up pooches have been able to convert that quality time into indoor games. From tug-of-war, to obstacle courses, many Owners have taken to exercising dogs indoors. Our dogs like the dog park, but they also like active play, and they LOVE time with their Owners. It's likely, then, that big dogs may have struggled with the restrictions, but small dogs may have accepted the trade-off. 
"My Owners seem to be spending a lot of time watching an orange human. What's the deal?"
You may have heard,  but the United States recently held an election. Despite the ocean between our country and the US, many Aussies remained glued to their screens for nearly a week. Of course, our furbabies didn't grasp the impact of US leadership on Australia's politics. If anything, they likely felt annoyed their their Owners were transfixed by two humans who have a combined age of nearly 22 (in dog years). After all, that's time you could have been playing "fetch" with them!  
"On balance, it's been a pretty good year for me!" 
At times, the air tasted smokey and ruined their Dog Walks. During other days, they lamented the fact that their Owners couldn't take them outside as much as they would have liked. In the end, though, most of our dogs were able to enjoy more time with their humans – which, in their eyes, makes it a very good year. That's how your dog has felt about 2020!
Comments
comments