We may not have asked such a question a few decades ago, but Dog Owners are now paying more attention to the kinds of food they bring home for Fido. Those lucky puppers! With so many quality dog food options available on the market these days, we want to clear the air about what's the best meat for dogs. Is it the kind with wings or hooves? Does it come from the ocean or the outback? We've got all the answers on what kinds of meat to feed your dog!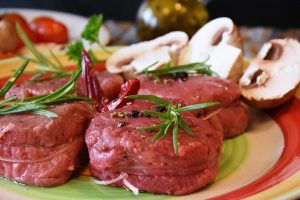 What's the best meat for dogs? It's the one with the highest biological value, of course!
In the past, your dog would have had to scrabble for whatever scraps they could find. And because survival was their main priority, this dietary lifestyle was enough to get by.
Today, though, our puppers are living the good life. And while they may seem to have the appetite of a wild animal, we have the science today to tell us which types of foods are best for their needs. It all comes down to something called biological value.
So, what is biological value?
It's a scientific term used to determine the amount of nitrogen and essential amino acids that can be found in food. Without these elements, your dog isn't going to be able to use that chunk of meat to build muscle, replenish their energy, and build up their immune system. So high biological value is a key factor in your dog's diet.
You might think of it like the difference between eating a fast food hamburger versus a bowl of veggies, grains, and lean meats. Sure, you'll feel full after both meals, but the variety of vitamins and minerals—plus the amino acids that will help you absorb them—in the second option is going to have a bigger payoff. Because of that higher biological value, you'll have more energy for jogging with your dog or staying focused at work.
As it turns out, not all meats have the same biological value. So, feeding your dog chicken instead of bacon, or kangaroo instead of fish actually can have an impact on their overall health.
Not all are created equal, so which ones are the best meat for dogs?
There are many different sources of protein you can feed your dog, but these three types of meat are largely considered to be the best, given their biological value and other nutritional benefits:
Chicken
This white meat has a very high biological value, so your pup will be able to digest and absorb a good portion of the nutrients available in their meal.
Plus, chicken offers Vitamin B12, B6, B3, and important minerals like Zinc, Magnesium, and Selenium. These elements have a range of benefits, including improved cognitive function, a stronger immune system and better muscle and nerve function.
Basically, if you're looking for the best protein source for an active doggo who loves to learn new tricks, chicken is an excellent choice. And what many Dog Owners love about chicken is that it's also one of the more affordable meats on the market.
Beef
If your dog tends to hang around the barbeque whenever you're cooking up a big slab of beef, well, we can't blame them! Beef is one of the best types of meat that dogs can eat.
Beef also offers our furry friends a good source of iron, which is a key mineral for a healthy, strong dog. In fact, beef is a great choice for working dogs, although all dogs will benefit from a beefy diet. Like chicken, beef is widely available and affordable.
Kangaroo
Non-Aussie dogs don't know what they're missing out on: kangaroo meat is clearly a top contender for best meats for dogs. Not only does kangaroo meat have that high biological value we're looking for, but it also provides our pups with Omega 3 and 6, and is actually slightly richer in iron than beef. Plus, it's a lean meat, which is great for overall health.
Lucky for our dogs, kangaroo meat is becoming more popular as Dog Owners recognise the many benefits of this unique protein source.
Before you stock up on these lean meats, there are a few things to keep in mind
You might guess that feeding your dog a bowl of tail feathers is going to have less nutritional value than slices of chicken breast. But the science behind where amino acids are most concentrated is a bit more complicated than you might expect.
In fact, feathers have a surprisingly high biological value because of their amino acid content. Further, the more muscular parts of a chicken, such as the thighs, are likely to have a better biological value than, say, the chicken breast.
With beef, there are also some differences in the biological value of different cuts. Interestingly enough, while mince is one of the cheaper options, it's also one of the best in terms of biological value.
All of this said, you don't have to get lost in the details here. If you're feeding your dog a mix of different cuts from chicken, beef, kangaroo, or another protein source with generally high biological value, you can feel good about the nutritional content in the dog bowl.
Read more about rounding out your dog's diet in our recent article, How Do I Give My Dog a Balanced Diet?
Final thoughts on what's the best meat for dogs
You want your dog's food to keep them healthy, energetic, and excited about dinner time. And you're not alone! This interest in dog nutrition is why we're seeing such an explosion of healthy dog food options on the shelves.
The good news is, one simple question—what's the best meat for dogs?—can give you a great starting point. Stick with chicken, beef, and kangaroo meat, and your furry friend will thank you when they're outrunning all the other dogs at the park!
And don't forget that the type of food you give your dog is only one part of keeping them healthy! Check out our articles, How Do I Stop My Dog from Overeating?, for more info on healthy eating habits for dogs.
Were you surprised to learn what's the best meat for dogs? Share your thoughts in the comments below! 
Comments
comments