Running out of ideas for socially distanced activities you can do with your dog? Don't worry, we've got plans for you and your furry side-kick that are going to add a little variety to your routine. Whether you're looking for relaxation, adventure, or something fun to put a smile on your face, you and your pup are going to love these unique socially distanced activities.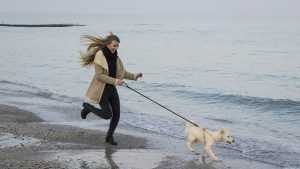 Join a socially distanced running club
Did it surprise anyone that the jogging community was quick to adapt their running routine to fit the so-called "new normal?" Without missing a beat, running clubs have spent the last few months mapping out new routes to allow distancing between members.
And as it turns out, outdoor running is one of the best socially-distanced activities for Dog Owners. Because, even if your dog gets daily walks from their Dog Walker, maybe you're looking for a little motivation to get on your feet, too! No matter if you're an experienced runner or are just starting out, picking up a jogging habit is a great way to spend time with your dog. 
Not all running clubs are dog-friendly, but there are quite a few running clubs specifically for Dog Owners across Australia. If you're not sure how your dog will do in a running group, pick up some tips from our article, How To Turn Your Dog Into A Running Partner. 
Turn your dog into a YouTube sensation
The internet will never tire of a cute dog video. And, since you've been spending more time at home, we can guess that you've gotten pretty good at filming your adorable furry friend.
Here are a few content ideas for you to get started:
Have your dog act as a judge on a dramatic cooking show in which you're the participant. You can even use our

Summer Dog Treat Recipes

as your cooking challenge, then do a taste test on camera to see what your dog thinks of your cooking skills. you can also have them "review" top-rated dog food to see if it meets their standards.

Give a tutorial on at-home dog grooming. Option one, here, is that you have a dog who loves baths; if so, you can film a helpful step-by-step tutorial. Option two: your bath-hating dog turns your bathroom into a water park, and you've got a funny viral video. Either way, you and your pup will have a great bonding experience. 

Hop on the latest internet dog challenge. 2020 has been full of them, so you have plenty of options! Our favourites include the "best unflattering dog photo challenge" and the "obstacle course challenge." 
Both of these challenges are dog- and cat-friendly so don't be afraid to share the limelight! 
If you really want to make waves, start your own internet dog challenge!
Organise an online dog competition
Maybe instead of cultivating a sourdough starter, you've spent your time in lockdown teaching your dog new tricks. Well, why not put your hard work to the test by organising a virtual dog trick competition with fellow Owners?
Here's how it would work: 
You put the word out that you'll be hosting an online dog trick competition. From here, you have your friends and fellow Dog Owners sign up their talented pup

Make sure to offer fun rewards for the winner, if you can, like a new chew toy or food bowl

During the big event, your role will be to act as the MC of the evening! You'll call on contestants to show off their dog's amazing trick and keep track of time. Then, when it's all over, you'll reveal the prize winners! 
Of course, if you're not too tech-savvy or are simply tired of being online all the time, you can also try organising a socially distanced version right in your neighbourhood! 
More outdoor socially distanced activities? Try geocaching with your dog!
Like outdoor running, geocaching is one of those easily-adapted socially-distanced activities that has gained a larger fanbase during 2020. What we love about geocaching is that it's a lovely way to get outside with your pup. 
If you've never heard of it, here's the gist: using only a GPS device—and maybe a physical map and notebook—you and your adventurous pup will travel far and wide to participate in a global treasure hunt. 
The caches, which can be anything from trinkets to personal mementos, have been hidden by members of the geocaching community. Your job is to find them! And if you'd rather stay close to home, that's fine, too! Whether you're in Sydney, Melbourne, another city, or a surrounding suburb, you can find hundreds of caches in your area.
As with any outdoor activity, it's a good idea to practice geocaching where you're familiar with the terrain. That way, you can enjoy your outing without getting lost. 
Make matching mask and bandanas for you and your pup
Okay, maybe your dog won't be able to help you out with this one. Even so, we can't think of anything cuter than a doggy and Dog Owner at-home fashion show.
So, if you're one of the creative types who have been making your own face masks from tutorials online, why not step it up a notch by using the same material for a doggie bandana, bowtie, or headband?
The added bonus: this attention-grabbing matching combo will remind the folks around you that you are practicing social distancing. Fashionable and functional!
Which of these socially distanced activities will you and your pup try?
This far into 2020, you and your dog might be feeling quite ready to shake things up. We hope that these suggestions inspire you to keep being creative, fun, silly, adventurous and open to new experiences, even with social distancing measures. 
If you have some exciting socially distanced activities to share, we'd love to see them in the comments!
Comments
comments