Her pet care journey began with hermit crabs, progressed to snakes, and now features animals of all shapes and sizes. From her Pet Hosting stronghold in Nunawading VIC, Cassie channels passion into every Pet Sit. In this November Pet Sitter of the Month feature, learn what makes Cassie one of Victoria's most versatile Pet Sitters! 

Why do you love being a Mad Paws Pet Pet Sitter? 
I love being a Mad Paws Sitter because taking great care of animals is a passion of mine that I've had since I was a young child. I also love making Owners happy and comfortable by knowing their furbabies are well looked after; it's a nice, rewarding feeling for me as a Pet Sitter.
What's your favourite thing to do with your furry clients?

 
I love taking my dogs on adventures, and the same goes for my furry guests! Provided the Owners are okay with it, I love taking their pups to walk different trails and dog parks. The great thing is that the dogs love it too!
What was the first pet you ever owned? Do you have your own pets now?

 
I've had so many that I don't even know the timeline! My first pet was either my hermit crabs or the stray cat I received on my seventh birthday. Now, we have a lot of pets at home. We have three dogs, five snakes, and nine rats – soon to be 11!
Do you have any particularly memorable furry guests?
They've all been pretty memorable. If I had to choose, though, I'd say a Samoyed I Pet Hosted. He was the biggest Samoyed I've ever met; he came while my bed was being delivered, and the first thing we did was climb onboard and nap together.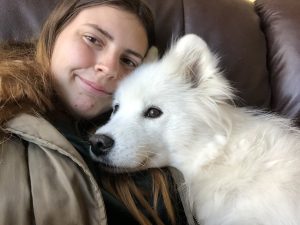 If your furry guests could talk, what one question would you ask them at a Meet & Greet? 
That's a difficult question to answer. If it's for Pet Hosting and Pet Day Care, I'd ask them if they plan to mark their territory in my house so I can be ready. For any other service, there would be so many possibilities!
What's your one top tip for new Pet Sitters?
I think it's the little things that make a big difference for the Owners. When Pet Sitting, I get the mail, take bins out, and strip the bed and wash the bedding and towels before I leave. This way, the Owners don't have to worry about it when they get home. With Dog Walking, if it's a difficult dog, I try to train manners to make it easier for the Owners to walk their dogs.
Comments
comments