Name: Patricia
Job Title: Product Manager
Pets: Vincent, a rescue dog
What were you doing before Mad Paws? 
I was working at a startup called Airbike, which focuses on station-less bike sharing. The company is based here in Sydney, but they also operate in Canberra and Adelaide. I was technically their COO, but as the company was very small, we all needed to adapt to different roles. It was a lot of fun. 
What do you love most about working at Mad Paws? 
Everyone has a really good vibe, and always comes to work with smiles on their faces. I love the energy that everyone brings to the office – and, obviously,
Charli the Labradoodle
is a huge plus! 
Tell me about something special you have on your desk
At the moment, the thing I have in abundance on my desk is caffeine in all its forms. Coffee capsules, teacups, cans of Red Bull – you name it. Suffice to say, caffeine keeps me running through the day. I'm also planning to adorn my desk with quotes that inspire me; give me time, and I'll get there! 

What do you spend your weekends doing?
A lot of dancing. A year ago I started going to Latin Motion, which is a Latin dance academy. I take classes in salsa, reggaeton, urban/Latin fusion, and all things Latin.
When I'm not at Latin Motion, I spend my time Scottish Highland dancing. During my childhood in Uruguay, my school offered Highland dancing. At started with dancing, then I moved into Highland tenor drumming, and now I do both. 
What do you have as the background image on your phone? 
I have a picture of Edinburgh Castle, which I took when I travelled there to perform in the
Edinburgh Military Tattoo
. Every year, the Tattoo invites people from around the world to apply to participate. I submitted a video audition of myself drumming, and they asked me to come to Edinburgh to drum as part of the Tattoo. I played in Edinburgh every night for a month, which was the experience of a lifetime. 
If you could Pet Sit any animal, what would it be? 
That's a difficult question, but I'd have to choose an elephant. They just seem like intelligent creatures, who are kind when they're treated well.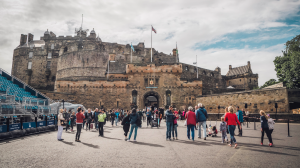 ---
 Quickfire Round 
Dancing or drumming?
Dancing
Black coffee or coffee with milk?
Coffee with milk, specifically cappuccinos. 
Salsa dancing or Highland dancing?
Salsa, but don't tell my Highland dancing teacher! 
Cappuccino or Red Bull?
Cappuccino
Edinburgh or Inverness?
Edinburgh
Dogs or cats?
Dogs. I like cats too, but who wouldn't like dogs?!
Comments
comments