From show dogs to deaf and half-blind rescues, Kate is capable of caring for any canine. A resident of Mount Waverley VIC, Kate's commitment and empathy to dogs earned her the title of September Pet Sitter of the Month. Learn all bout why Kate is one of the best Dog Minders in VIC!

Why do you love being a Mad Paws Pet Sitter? 
All the incredible pets I get to hang out with, and the Owners I get to meet!
I have always loved animals and have had pets most of my life, so to be able to do this around my availability is fantastic. I also understand how busy everyone's lives are, and I love being able to help people go and do the things they need to do, knowing their pet safe with someone they can trust.
What's your favourite thing to do with your furry clients?

 
It depends on the dog, but I love cuddles on the couch, going for a run in the park, and doggy brunch dates. I want the pets to feel like they have been on a holiday too!
What was the first pet you ever owned? Do you have your own pets now?

 
The first pets I had was as a child, a Beagle called Jodie and a tabby cat called Willy. With Willy, my parents originally thought he was a she and named him Cleo, but then realised she was a he, hence the name! I have always had family pets growing up. I've recently moved into a bigger house with a backyard so I think it's time I finally got one of my own!
Do you have any particularly memorable furry guests?
Every pet is so different, and I love learning about their little (or big) personalities. They have all been memorable in their own way. I am really inspired by one of my repeat clients, Halo, a Border Collie cross Koolie who was a rescue from the Hear No Evil organisation. Halo is deaf and blind in one eye but despite this, he lives his life to the fullest every day! He has the sweetest nature and is incredibly smart – his Owner has even taught him to understand sign language!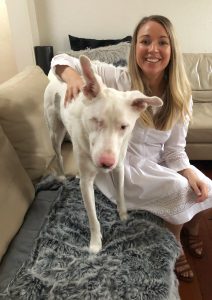 If your furry guests could talk, what one question would you ask them at a Meet & Greet? 
Are you comfortable being on social media? If so, you'll be on my Instagram Stories pretty much on a daily basis.
What's your one top tip for new Pet Sitters?
My top tips for new Sitters (and something that's worked for me) would be to set your prices competitively at the start. Maintain exceptional communication with the Owners, and ensure you're sending daily updates on how their furbabies are going. Let the pets come to you in their own time when they first arrive. They pick up your energy, so if you are happy and calm, they will be too.
Do you live too far from Kate to book her services? Peruse our list of other top Pet Sitters around Australia!
Comments
comments