There are lots of dog myths flying around – things we all accept to be true without even thinking about it! We're setting the record straight! 
A wagging tail means a dog is happy
A wagging tail merely indicates a heightened emotional state. Yes, wagging does often mean a pooch is happy but it can also mean a whole host of other things. To work out how your doggo is feeling, check out the rest of their body language – we've got some handy hints on how to read your dog's body language here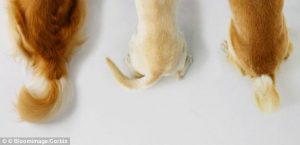 Licking wounds is good for healing 
It was once believed that dogs mouths were antiseptic and licking wounds would help them to heal. In fact, although licking may remove some dead skin, it is also depositing lots of bacteria. Excess licking will also slow down healing as it prevents new tissue from growing. 

One human year = 7 dog years 
This is an oversimplified way to explain dogs ageing. Dogs have much shorter life spans than humans and in fact by the time your dog is 1 year old, they're better compared to a late teenage human than a 7 year old – they're able to reproduce and still have lots of energy. Also, some dogs live to 15 or 20 years old, which would make them 105 or 140 years old using the 1:7 year ratio! 

Dogs feel guilt 
It's hard to believe that this one isn't true! You come in to find your shoes chewed, a puddle in the corner of the room or the sofa ripped to shreds and your pooch creeps around looking 100% guilty. In fact, dogs live in the present moment and are unable to relate a past action to a future response. They won't think, "he's upset because I chewed his shoe a few hours ago". In actual fact, he is reacting to your body language. Before you've even uttered a word or started to scold, your body has given off a hundred signals that you are not happy and your pooch picks up on these. 
Many studies into dog guilt have been conducted and have concluded that dogs do not feel guilt. In an experiment,  when a chewed shoe or pee puddle is left in a room by someone – not chewed or left by the dog – the dogs had the same "guilty" response – tail tucked, ears back, creeping low to ground, hiding etc – when their owner came in the room and acted annoyed, even though the dog was not responsible. They respond to the body language rather than thinking "I feel bad for chewing that / peeing there". 

Dogs eat grass when they are sick 
 It's true that dogs eat grass but there is very little evidence to suggest they do it because they feel ill and want to make themselves vomit. So why do they do it? Scientists aren't sure but think it could be to improve digestion, treat intestinal worms or maybe even to address some unmet nutritional need such as low fibre intake.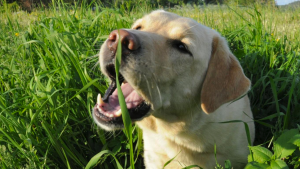 Dogs see in black and white
A lot of people believe that dogs see in black and white but this is completely wrong! It's true that they have a more limited colour spectrum compared to humans but they do see in colour!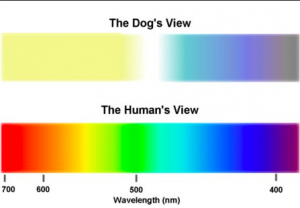 Comments
comments