There's a range of psychological and physical benefits of learning how to train a dog to herd. Whether your pup is a traditional herding dog or not, they'll enjoy a brilliant workout, mental challenge, and bonding opportunity with their favourite human: you!
But, how do you even get started on an activity like this? What can you do if you don't have a herd of sheep? And is there a risk that your dog will start herding everything that moves, from the family cat to their friendly Pet Sitter? 
In this article, we'll talk all about what it takes to train a dog to herd and other things you should know about this centuries old practice. If it sounds like something you're interested in trying, your doggo will be sure to step up to the challenge!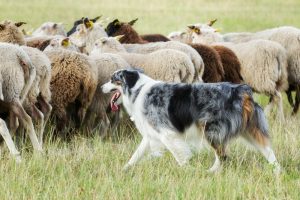 Which breeds are best-suited for herding?
Some dogs were bred to herd. After hundreds of years of careful breeding, today's herding dogs are true masters of the practice. It comes to them instinctually.
And, you've probably already got a few of the big names in mind: Border Collies, Australian Shepherds, and Australian Kelpies. These dogs are fine-tuned in the art of herding!
But, there are many other dog breeds who can herd quite impressively. Australian Cattle Dogs, Old English Sheepdogs, Corgis, Shelties, Bouvier des Flanders, and Rough Collies were all bred originally as herding dogs. Even the German Shepherd has roots in this long-held doggy tradition!
To be sure, this isn't an exhaustive list of dogs who can learn how to herd. In reality, any dog with the interest and stamina can try herding. If they take well to it, there's nothing stopping them from honing their skills! And they may even qualify for competitive trials! Even the breed-strict AKC herding trials are open to Samoyeds, Boerboels, and Schnauzers. Many other competitions are open to mixes of all shapes and sizes.
How can you train a dog to herd?
When you're ready to build your dog's herding skills, here are a few steps to show them the ropes:
#1: Work on basic commands
No herding dog is all skill and no training, so the best way to start out is with basic commands. You'll want to focus primarily on "sit," "lay down," "stay," and "come."
#2: Expose your dog to livestock
Just like you would socialise your dog to get along with other puppers or stay calm in busy areas, exposing your dog to farm animals is a key step for a future in herding. Dogs who are too excited around the livestock won't listen and may develop a nipping habit. 
This is also a good opportunity to gauge whether your dog will have an interest in herding, at all. If your pupper doesn't glance twice at a flock of sheep, chances are, they won't be excited about spending hours learning how to herd them.
That said, even if you can't expose your dog to livestock, that doesn't disqualify them entirely! If you don't have access to farm animals yet, work on getting them socialised in the settings available to you.
Another tip for success on this step? Regular exercise. Trips to the dog park, interactive play, and visits from an energetic Dog Walker are all great ways to burn off energy and promote emotional regulation.
#3: Play fetch
Simple, right? But you'll find that a lot of professional trainers start the herding lessons with a simple game of fetch.
There's a lot more going on here than meets the eye. Chasing after a ball or toy is a great way to encourage your dog's chasing instinct. And, incorporating commands into the game—for instance, having your dog wait to chase the ball until you release them—will build your herding partnership. 
#4: Learn the lingo
There are a few herding commands that your pup probably hasn't heard of, but will be essential for herding. The most basic ones are:
"Come bye" which will prompt them to run clockwise around the herd, guiding it to the right

"Away" in which they run counter-clockwise around the herd, guiding it to the left

"Walk up" which will position them to the back of the herd, guiding it towards you
The easiest way to start practicing this behaviour is with your dog on a leash. You'll want something to walk around, preferably a chalk-drawn circle on the ground, and an item to retrieve (this is where that fetch practice comes in handy!)
With your dog on the leash, walk them around the "herd" to the right or left side while saying the relevant command. Eventually, they should be able to retrieve the item off leash without making a bee-line through the circle. And you'll know they've really mastered the technique if they can switch directions quickly at your command.
To train "walk up," have your dog walk around the circle on the right or left side and then return to you through the circle.
Make this step more challenging by ensuring that your dog can stop and lie down at any point in the session. Whether they're on the way to the item, on the way back, or mere centimetres away from the item, they should be able to freeze in their tracks and lie down.
#5: Teach a release command
Just as important as the techniques of herding are teaching your dog when to call it quits. With true herding breeds, this can be the hardest step! 
Choose a release command, such as "that's enough" or "break," that will signal that your dog should stop the session and come back to you.
Make sure to smother your dog with praise and treats so that they see you as more enticing than the herd.
#6: Test out your dog's skills with live animals
In farm settings, the previous two steps are often done with live animals from the start. But, for novice herding trainers, you can wait until your dog has mastered the herding commands before trying them out around real animals.
Here are a few insider tips for this step:
Consider using small animals like ducks or chickens first

Don't use animals that will easily outrun or injure your dog, such as cattle, until your dog is more advanced

If possible, use a herd that is already accustomed to herding dogs
Overall, these six steps take months of consistent practice, patience, and positive praise. If you can stick with it, your dog will get a mental and physical workout like no other! 
Can city dogs learn to herd?
As you can see, many of the steps to train a dog to herd can be done anywhere! So, is it possible to train your city-dwelling pup to herd?
Yes! Even if your pupper has never seen a goat, sheep, or chicken, they can learn to herd. 
In fact, there are farms that offer herding training to city dogs on the weekends right in your own backyard. If you're looking for a fun adventure outside of the city, sign up for a training class and enjoy the country with your pup!
When you train a dog to herd, will they start herding everything in sight?
One concern that some Dog Owners have is whether their pup will develop a herding habit when they're not on the farm. Will your dog start nipping at their Pet Sitter's ankles or herding the other dogs at the dog park after they start training?
Here are two reasons not to worry too much. On the one hand, if your dog has a herding instinct, they're likely looking for appropriate outlets for the behaviour already. Teaching them to herd in a controlled environment is a brilliant way to phase out the habit in daily life.
For other dogs who aren't part of the traditional herding group, teaching them the new skill isn't likely to develop a herding habit. Without the herding instinct, your pup will see herding as a fun activity to enjoy with their human instead of something they need to do.
Will you try herding with your dog?
Training a dog to herd is amazing for their physical health, mental stamina, and overall sense of wellbeing. Plus, if you've been looking for ways to bond with your dog, going through the training process is sure to bring you closer together.
And even if your doggo is a city-dweller, you can still enjoy this amazing sport. Make sure your pup gets consistent exercise throughout the week with the help of a friendly Dog Walker, and they'll be ready to hit the farm on the weekend!
Now you know what it takes to train a dog to herd, will you try it?
Comments
comments