Many of us write off Brachycephalic Airway Syndrome as the normal and often amusing breathing patterns of some of our favourite brachy breeds, such as Bulldogs and Pugs. Yet, as responsible Dog Owners, we all should know about the real dangers of Brachycephalic Airway Syndrome. If you've been worried about how best to care for your brachy breed, you're in the right place! In this article, we're going to explore Brachycephalic Airway Syndrome with the loving Dog Owner in mind. Make sure to share this information with your fellow Dog Owners and trusted Pet Sitters so that everyone can pitch in to lower the risks and discomfort of this often-misunderstood condition.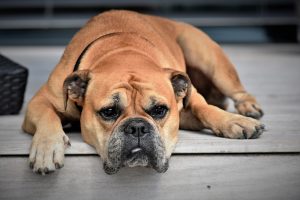 What exactly is Brachycephalic Airway Syndrome?
In the medical community, "cephalic" refers to the skull or head and "brachy" means short or shortened. So, brachycephalic breeds, or brachy breeds, are all of those doggos (as well as some cat and rabbit breeds) with a short snout. These include Boxers, Bulldogs (both French and British), Shih Tzu, Chow Chows, Chihuahuas, and more.
So, that explains Brachycephalic breeds, but what about Brachycephalic Airway Syndrome? Well, we don't want to bog you down with too much of the anatomical details, but it can be helpful to know exactly where things can go wrong in the respiratory system of a brachy breed dog. So let's take a quick look inside your dog's airways.
We'll start with the nostrils. Brachy breeds often suffer from stenotic nares, or misshapen nostrils. With this condition, the rest of the face pushes the nostrils inward. You can easily identify stenotic nares in your dog because they won't have clearly defined nose holes.
Dogs with Brachycephalic Airway Syndrome are at higher risk for an elongated soft palate, which means that the tissue separating the nasal passage and the mouth extends farther back than it should, disrupting air flow. This can be made worse by the fact that some brachy breeds tend to have enlarged tongues, and/or smaller-than-normal tracheas.
Now, here's where things get a little more complicated. Brachy breeds may also suffer from issues with the larynx, or what we think of as the voice box. When the larynx is put under chronic stress or pressure, one risk is laryngeal collapse. In this situation, the cartilage around the larynx becomes strained and weakened, which can further shrink the airway.
The other common issue within the larynx has to do with laryngeal saccules, which are air sacs attached to the vocal cords and laryngeal wall. The issue arises when these air sacs become irritated or they get pushed out or sucked into the airway as a result of laboured breathing.
Overall, the respiratory system is complex and intricate. A dog suffering from Brachycephalic Airway Syndrome may have a combination of or all of these issues. The chief takeaway is that Brachycephalic Airway Syndrome is the result of a cluster of breathing issues which stem from a shortened snout.
What can you do about Brachycephalic Airway Syndrome?
Brachycephalic Airway Syndrome can manifest differently in different dogs. You might see a Frenchie walking happily down the street without much of a fuss. Others may require surgery to address a collapsed larynx or trachea or remove laryngeal saccules.
When you bring a brachy doggo to the vet for the first time, you'll be able to get a sense of your dog's unique situation. Most likely, your vet will talk to you about the risks and how to identify an emergency situation. They may also suggest proactive surgery to open the airways. This may involve removing part of the soft palate or widening the nostrils.
How brachy breed Owners can help their pups
While your vet will be your best source of information about your dog's unique needs, there are a few things that you can do to ensure your brachy pup is as comfortable as possible. Here are a few tips:
Avoid extreme heat. Brachy breed dogs are not able to regulate body temperature as effectively as other breeds
Attach your dog's lead to a harness instead of a collar, and ensure you teach your dog proper walking etiquette. 
Help your dog maintain a healthy weight. Brachy breeds may benefit from more frequent short walks than longer ones, so make sure to call in a trusted Dog Walker to help you keep your pup healthy.
Make sure your trusted Pet Sitter knows your dog's limits. Like we said, some brachy breeds don't suffer much from the symptoms, while others need special accommodations. Mad Paws Dog Walkers and Pet Sitters have a good sense of the risks, but it's even better if you can tell them about your pupper's unique situation.
If you ever see your brachy breed struggling to breathe; unable to move; coughing uncontrollably; or otherwise in clear distress; get them to a vet as soon as possible.
With the proper care and attention, your brachy breed pup can be happy and healthy!
Now that you know about Brachycephalic Airway Syndrome, how will you help your brachy breed pup?
Comments
comments