Pooches, parrots, and pythons – this Sitter has cared for them all. As a Pet Sitter in Riverview NSW, Andrea's commitment and adaptability have earned her our February Pet Sitter of the Month badge. Learn her secrets to Pet Sitting success below! 

Why do you love being a Mad Paws Pet Pet Sitter? 
I love spending time with breeds I've never encountered before and getting to know the many different personalities pets have. I also love the chance to see new suburbs and parts of Sydney I've never been to. 
What's your favourite thing to do with your furry clients?

 
My favourite thing to do with dogs is to be creative with the routes we take for their Dog Walks; I try to take a different one every day. With cats I like to play with them if that's their thing or otherwise just chill together and give some pats.
What was the first pet you ever owned? Do you have your own pets now?

 
I got my first pet when I was 5, which was a budgie named Peekaboo. I now have a spotted python named Bijou, a cat named Mao Mao, and a childhood cat named Kilala that lives in the US with my parents.
Do you have any particularly memorable furry guests?
Not a furry guest, but a feathery one! A particular parrot I minded was a cheeky fellow who gave me good nip on the finger that I'll never forget. I now have a nice scar to remember him by! Besides that, he liked to do tricks like roll over onto his back, which was entertaining.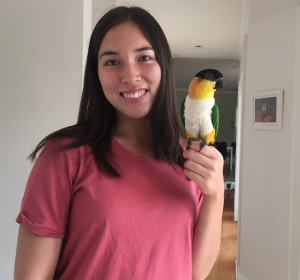 If your furry guests could talk, what one question would you ask them at a Meet & Greet? 
The question would be different depending on the pet. For dogs, I would ask about their favourite thing to do with their Owners. For cats, I'd ask where their favourite place to be scratched is.
What's your one top tip for new Pet Sitters?
My tip for Sitters staying at the owner's house is to leave the place cleaner than it was when you found it. Giving the house a good once-over, making sure the floor and counters are clean and the trash/recycling is taken out, is greatly appreciated by Owners. 
Comments
comments