Since Soviet cosmonaut Yuri Gagarin became the first human to enter space on April 12, 1961, numerous men and women have followed suit. However, animals were actually the ones to lead the charge: fruit flies were the earliest creatures in space, and a Soviet pupper named Laika had already reached orbit several years before man. So if you've ever wondered, "Can dogs travel to space?" the answer is yes, they can!
But while a dog may technically be able to travel to space, is it safe for them? Even though humans have a pretty shaky history when it comes to dogs and space, could we ever reach a point where they can live as astronauts do?
There are still a lot of unknowns around outer space, including when it comes to dogs. But in light of what's already happened and what the future may hold, we thought we'd speculate on how dogs could survive beyond Earth's atmosphere.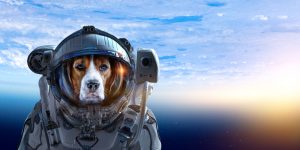 Can dogs travel to space?
As a matter of speaking, yes. In fact, a number of dogs (and other animals) have already done so. When the US and Soviet Union were battling each other in the Space Race of the 1950s and 60s, both nations adopted animals as test subjects. They used animals to uncover the physical effects of travelling into space before they committed to a human mission.
The Soviets opted for dogs because they believed they could withstand long stretches of inactivity. Stray dogs, they thought, were particularly used to adverse conditions. 
Laika, a dog from the Soviet Union, is probably the most famous of these dogs. She was the first animal to ever reach orbit, and she did so way back in 1957. Sadly, though, her story didn't end well. 
Laika was a stray Husky-Spitz mix who was sent into space aboard the Soviet Union's Sputnik 2. She was chosen for her docile nature, small size, and ability to live in a compact pressurised space capsule for several weeks. 
Before she travelled to space, doctors inserted a small medical device into Laika's body. This was designed to monitor bodily functions including her heart rate and blood pressure. Straight after she took off, that medical device revealed some pretty sobering information: Laika was so terrified that her heart rate tripled and her breath rate quadrupled.
Laika made it to orbit in 103 minutes, but that was about as far as she went. 
Soviet Union documents and broadcasts claimed that Laika lived in space for several days. However, she actually died within a matter of hours after her capsule reached unsurvivable temperatures. In reality, the Soviets knew that Laika wouldn't survive. This was because humans hadn't yet created the technology to return from orbit.
Laika is just one of many dogs and other animals who have been sent into space. The US tended to use primates, but cats, mice, rabbits, birds, and insects have also ventured into the sky. As well, the Soviet Union and US aren't the only countries to have used animal test subjects. France, Argentina, China, Japan, and Iran have done so too.
Now that we've solved "Can dogs travel to space?", could they actually survive there like humans?
Despite past tragedies, could dogs travel to space and return unharmed? 
Unprotected, there's no doubt that a dog (or even a human) wouldn't last very long. Without an adequate barrier, a dog could only withstand exposure to vacuum conditions for a few minutes. In fact, the only animals that can survive in space unprotected are those curious creatures known as tardigrades. These tiny animals can sustain themselves in some of the toughest environments on Earth – and beyond it.
Protected, though, it's definitely possible. Several animals who have travelled to space have sadly died, but a number have managed to survive. Early animal testing before Laika was limited to altitudes that were indeed high, but not as far as orbit. Some of these animals travelled a few hundred or thousand kilometres into space and returned to Earth alive.
Another Soviet mission in 1960 carried two dogs named Belka and Strelka, along with other animals. They were the first animals to orbit Earth and make it back. Strelka later gave birth to puppies, one of which then Soviet leader Nikita Khrushchev gifted to John F. Kennedy's daughter, Caroline.
Many of the dogs and other animals who didn't endure their missions were sadly subject to mechanical or technical faults. On Sputnik 2, for example, the spacecraft lost its heat shield. This is why the capsule heated to the point where Laika couldn't carry on. Other dogs were subject to questionable conditions with little regard for their welfare, and others still couldn't tolerate the harrowing experience.
These days – now that humans have successfully orbited Earth and landed on the Moon – animals aren't utilised as much in space. And if they are, the case needs to be very strongly justified. It also tends to be mice and insects who get sent to space on modern missions.
As well, animal welfare is a much higher priority in any kind of scientific research, including space missions. That means maximum care is given to any animal involved. NASA researchers, for example, need to stick to strict ethical standards and ensure unnecessary suffering is kept to a minimum.
There's also more awareness around adapting spacecrafts to suit animals' unique needs. When it comes to mice, NASA has acknowledged that they require wire mesh cages instead of traditional aquarium-style cages. This is because wire bars are easier for mice to grip on to. Mice also need pressurised water containers they can drink from and compressed food bars to eat. For waste, they have a specially designed containment system that works in space.
While space agencies are unlikely to utilise dogs anytime soon, the same could be said for our puppers. If they were to travel into space, we would need to thoroughly adapt their usual way of being to work in zero gravity. That could mean similarly compressed food and a cradle to keep them firmly fixed in place. 
The capsule would also need to be comfy enough for the dog to withstand a long journey, and potentially manned by a human. They could then help ease the dog throughout the journey and address any technical or mechanical issues.
In saying all this, it's still entirely possible for faults to occur. Even with extreme caution and the most highly trained humans on board, things can unexpectedly and irreparably malfunction. Plus, space travel has proven to be incredibly stressful for dogs. Regardless of using the best technology or a dog-friendly space capsule, for some dogs, the experience could simply be too much.
Could a dog survive on Mars?
With much talk around colonising Mars, it makes sense that people would be curious whether their furry friends could join them.
Mars isn't exactly the most hospitable place in the solar system. There isn't much water, the atmosphere isn't breathable, and the surface is too cold to support human life. The gravity on Mars is also much weaker. Right now, even us humans couldn't survive there. We'd need to do a heck of a lot of work to make Mars liveable. However, it's certainly within reason.
If we were to colonise Mars, we'd need specially built enclosures that protect us from Mars' harsh conditions. It's entirely possible that dogs could also live in these enclosures. If humans wanted to venture outside the enclosures – say, if they were a spacefaring local Dog Walker who was tasked with walking a spacefaring doggo – they'd need to wear a spacesuit. The dog would have to wear a specially designed spacesuit, too. 
Living in a small enclosure isn't as ideal as a big Earthly home with plenty of yard space and breathable air. But it could very well be doable. Dogs are highly adaptable, and many experts believe that they would adjust to a new environment in due time. 
Whether or not our furry friends actually end up joining us on Mars remains to be seen. At least this time around, it's unlikely we'll be using them as our guinea pigs.
Comments
comments