In many ways, dogs are just like us. Each pup has its own personality, its own likes and dislikes, its own fears, and its own quirks. However, while these vary wildly between individual dogs, there are certain traits that some breeds are known for. One of the most sought-after of these traits is calmness. When we say "calm", we don't necessarily mean these dogs aren't energetic or playful. Every pooch, no matter how chill or how hyper, needs physical and mental stimulation. However, these doggos tend to be naturally gentler, less anxious and more easygoing. So, without further ado, here are eight of the calmest dog breeds around.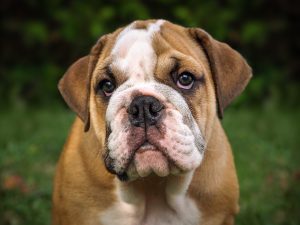 #1: Cavalier King Charles Spaniel
With their fancy name, you might assume these pups are snooty and highly strung, but that couldn't be further from the truth. Cavalier King Charles Spaniels are incredibly laidback, peaceful companions, making them popular family pets. These friendly doggos are great around pretty much everyone, from young kids and complete strangers. As such, they don't make great guard dogs, but they make up for that minor flaw in unconditional love.
Cavs are so calm, in fact, that they're often mixed with other breeds for this very trait. As such, Cavalier mixed breeds (like Cavoodles, Beagliers, and Pugaliers) also tend to be quite relaxed.
#2: Great Dane
Great Danes truly are big, friendly giants. Despite their intimidating size, these beautiful dogs are really just massive sooks. They're gentle with other dogs and little kids, though they should be kept an eye on around very small children – sometimes, these pups often forget just how big they are. In fact, the tallest dog ever was a Great Dane named Zeus, who stood at an imposing 1.118m tall – and that's on all fours!
It's important to note that Great Danes do require moderate exercise, so if you can't commit to a daily walk, it could be a good idea to lock in an experienced local Dog Walker to pick up the slack.
#3: Basset Hound
If you're after a dog that's both calm and low-energy, the Basset Hound is for you. These short-legged, long-eared couch potatoes are as gentle as they are cute. Originally bred for hunting small animals like rabbits, Bassets are known for their amazing sense of smell. But aside from their powerful sniffer, these docile doggos also happen to be one of the calmest dog breeds. They're friendly and playful, but still chilled-out enough to enjoy a Netflix binge session with you.
On the downside, Basset Hounds are prone to a few different health issues because of their short stature, long ears and droopy eyes.
#4: English Bulldog
Despite their tough-looking exterior, English Bulldogs are incredibly sweet and calm. They can be stubborn when it comes to training, but more often than not, you'll find them to be friendly, relaxed and patient. These doggos have a longstanding connection to British culture and remain one of the most popular dog breeds not only there, but in Australia, too. Originally used in bull-baiting (a practice thankfully made illegal in the 19th century), nowadays, they live in the lap of luxury as man's best friend.
Like Basset Hounds, however, English Bulldogs are susceptible to their fair share of health issues. They're especially prone to obesity, so be sure to keep them on a diet of healthy, fresh dog food.
#5. Newfoundland
Another gentle giant, the Newfoundland is not only one of the biggest, but also one of the calmest dog breeds. Originating on the Canadian island of Newfoundland, this beautiful furry beast is smart, strong, friendly, and very laid back. They're also bona fide heroes, with countless stories of these strong swimmers rescuing people. Some historians claim that even Napoleon Bonaparte was saved by a Newfie!
That said, like most giant dog breeds, Newfoundlands do require a decent amount of exercise. It doesn't take much for them to become complete couch potatoes, so you'll need to commit to daily activities.
#6. Greyhound
Speaking of couch potatoes, we couldn't leave out the Greyhound, could we? Despite their status as the fastest dog breed, they also happen to be one of the laziest. Outdoors, they love a zoomies session as much as any pup, but at home, they're calm, quiet, and couldn't be happier to relax on the couch with their human. They're also reasonably easy to train, despite their generally independent nature.
Greyhounds are cute, cuddly, easy to groom and don't require much exercise. The only downside (and it's a minor one) is that they tend to be quite sensitive and can be a little timid around new people.
#7. Bernese Mountain Dog
They definitely take the cake as one of the most beautiful dog breeds, but did you know the Bernese Mountain Dog is also one of the gentlest pooches around? Originating in the equally picturesque mountains of Switzerland, Berners are traditionally working dogs, bred to guard property and herd cattle. They also make wonderful furry family members, thanks to their lovely temperament and easygoing nature, both around new people and other pups.
Because of their working dog roots, that does mean Bernese Mountain Dogs have pretty high energy levels and therefore need lots of exercise and mental stimulation.
#8. Shih Tzu
It's a common misconception that all pint-sized pups are tightly-wound balls of anxiety. The Shih Tzu is all the proof you'll ever need that even the tiniest pooches can be calm. These beloved lap dogs are fun, playful, and incredibly loyal, and it certainly doesn't hurt that they happen to be downright adorable. However, they do have a streak of independence which can make obedience training a challenge.
Shih Tzus are known for their long, luscious locks, so prospective Owners need to be prepared to devote a fair amount of time (and money) to keeping their coat on-point.
Did your pup make our list of calmest dog breeds?
Even if your furry friend isn't on the list, that doesn't mean they can't be just as calm as a Cavalier or Basset Hound! Even energetic dog breeds like Border Collies and Huskies are capable of channeling their inner zen. Pups tend to chill out with age, and there are ways to calm down anxious dogs, too, so don't give up hope!
Comments
comments