What are the world's most energetic dogs? It's a tough one to answer! The truth is, most dogs are willing to go the distance with their beloved Owners. They all seem to love the outdoors, long walks with their favourite Dog Walkers, and a good game of fetch. It's just in their blood.
But while all dogs want and need some daily physical exercise, there are some breeds that really stand out. These doggos would bring home the gold in the high energy breed olympics. They'll happily lead the way on your next mountain climbing adventure. And they'll definitely run around the block 16 times before you realise they had hopped the fence.
These dogs have energy. So who are the contenders for the most energetic dogs on the planet? Let's have a look.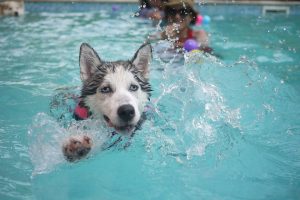 Don't be fooled by the small stature and perfect snow-white coat of this little dog. The Maltese will run circles around the big dogs. They're incredibly fast and seemingly tireless. Owners of Maltese Dogs must schedule daily walkies and throw in some fun indoor activities, too.
The Dalmatian was bred to run. From their early days as carriage dogs for bankers and beer companies, Dalmatians needed to be fast enough to keep up with galloping horses and brave enough to ward off robbers and bandits. Later, they would take on the very important job of leading and protecting horse-drawn fire carriages. Entire cities depended on the athleticism of this dotted doggo. 
If there are two things that Jack Russell Terriers are known for, it's their big energy and even bigger personality. Funny, playful, and full of unique character, the Jack Russell Terrier is one of the most energetic dogs you'll ever meet!
Back in the day, Beagles were used to chase one of the fastest wild animals in the forest: the fox. But even among hunting dogs, Beagles made a name for themselves for their persistence and endurance. Whether they're enticing their Owners to play, or sniffing out their favourite treats, a Beagle's curiosity and energy levels seems to be inexhaustible.
It takes almost as much muscle as bravery to throw yourself headfirst into a badger hole, and this doggo has an excess of both. Not only are Dachshunds strong, they also have a large barrel-chest in proportion to their small bodies, giving them a surprising amount of energy and stamina. Since they're no longer living the pest-control lifestyle, these dogs need new outlets for their high energy.
If you've ever locked eyes with a Kelpie, you probably knew right away it wasn't a smart choice unless you're ready to become said Kelpie's new best friend. Eye contact is all the permission they need to bring you every single toy in existence until your arm is exhausted from throwing and playing tug-of-war. There is no going back. Welcome to your new life. 
We see your look of confusion, but hear us out. Underneath that floofy masterpiece that is a Poodle's show coat is a dog that was bred to jump through muddy fields, swim in freezing cold lakes, and dive pouf first into a bush full of birds. Not only are these the most energetic dogs in the world, but they can roll around in the mud one day and win best in show the next. Name another dog with that kind of range.
They may not be able to bark, but these dogs sure can run. Silent and skillful hunters, Basenjis didn't come all the way from Africa to sit on the couch. They need to stretch their legs and show off their double suspension gallop at the dog park.
#1 on the most energetic dogs list is a tie! Between the Border Collie and the Siberian Husky!
In one corner, you have one of the best sheepherding dogs in history: the Border Collie. This dog has so much energy that some Owners opt to own more than one simply because only a Border Collie can keep up with another Border Collie. With so much intelligence and endurance packed into one pup, energy levels never run low.
And in the other corner, you have the team-oriented, Iditarod-winning, endlessly energetic Siberian Husky. This dog has so much energy, that scientists have published multiple studies trying to figure out how in the world sled dogs are able to run race after race without so much as a blip in their vital signs. Turns out, their skeletal muscles have superior gluconeogenic abilities. That's science speak for these dogs can run.
Think your dog can keep up with the world's most energetic dogs?
Do you have a world-class sprinter? Do you have to warn your friends and friendly Dog Walker that your pup is a high-octane power house? We love hearing about the most energetic dogs – and how their Owners cope with all that extra energy!
Comments
comments