Finding new ways to mentally stimulate your dog is a great way to ward off boredom and bond with your pup. However, coming up with new ideas to shake off the cobwebs can be tough. Here at Mad Paws, we've been brainstorming the best boredom busters and brain boosters that your dog will love. Whether you want to challenge your doggo's decision-making skills or give them more opportunities for some canine entertainment, we've got a list of fun, engaging activities to mentally stimulate your dog.
So, no matter if you've got a super smart Samoyed, an adventurous Akita, or an easily distracted Dobermann, you're bound to find something perfect for your unique doggo!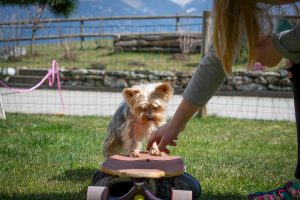 Benefits of mental stimulation for dogs
If you've read the Mad Paws blog in the past, you know that we're all about mental challenges for dogs. But it's not just because we love to see your fluffy puppers living out their best lives. There are also real health benefits to revving up that doggy noggin. 
On the one hand, mental engagement can keep your pooch puppy-like for longer by slowing the process of cognitive decline. It also lowers your doggo's stress levels and helps to curb some of their nervous habits like chewing and digging. 
And, perhaps the most compelling reason of all to find ways to mentally stimulate your dog: they love it! Imagine having a personal assistant whose only job was to arrange for you to learn how to windsurf and take creative writing classes and go on trips to new places. It'd be a blast! This is your chance to plan out the perfect array of engaging, exciting, and health-boosting experiences for your dog. 
These ideas are sure to get the gears going for your pupper:
#1: Mentally stimulate your dog with training sessions
For Dog Owners, training sessions can sometimes feel more like an obligation than a treat. But our doggos don't see it that way. Rather, they consider training as an opportunity to show off how good and smart they are in front of their favourite person. That's what makes this such a simple and effective way to mentally stimulate your dog.
You'll want to start small and build up to more difficult tricks so that your pupper doesn't feel overwhelmed. The beginner's trifecta—sit, stay, come—is a great jumping board for more challenging commands later on. Before you know it, your pup will be ready for more showy tricks, like shake, roll over, and play dead.   
And, the fun doesn't stop there. Even when you feel that your dog has a pretty long list of show-stopping tricks, they'll easily get bored when they stop learning new ones. And since the average dog can learn about 165 words, there's never a reason to stop teaching them new commands!
#2: Use at-home challenges to have fun 
What makes so many of these viral challenge videos compelling to watch is that they showcase doggo problem-solving in real time. And the best part is, your pooch doesn't have to be a social media pup-fluencer to join in these mentally challenging games.
You may remember us mentioning one of our favourites—the Obstacle Course Challenge—in our recent article, Top 5 Socially Distanced Activities You Can Do With Your Dog. This fun challenge includes creating a maze of everyday household objects that your puzzled pup has to find a way through. The decision-making process—"do I gingerly step around the items or crash boldly through?"— is what makes this challenge ideal for mental stimulation.
The What the Fluff Challenge is another way to get the gears going behind those puppy-dog eyes. In this one, which started in 2018, Dog Owners raise a large blanket between them and their expectant dog, then quickly dash behind a door or into another room as the blanket drops to the floor. It's like a delightful magic trick for your dog, and you'll love watching their reaction as they try to figure out where you went. Plus, you'll melt when you see how happy they are a few moments later to realise you haven't vanished into thin air.
#3: Outdoor Adventures to mentally stimulate your dog
Sure, you may walk your dog around the block everyday for some fresh air. But when you want to mentally stimulate your dog, you'll want to spruce up your outdoor adventures.
One surefire way to add some mental engagement to your outings is to explore new areas. Just like you may be itching to book your next trip to a new city or country, your dog will be ecstatic to sniff, see, and experience a new place. For tips on how to introduce your pup to new landscapes, take a look at our article, Should City Dogs Spend Time in the Country?
Even if you're not able to charter new territory with your terrier, you can still make outdoor adventures more exciting by signing your pet up for doggie sports. Agility training, scent tracking, lure coursing, and other similar outdoor activities are sure to hone your pup's senses and engage them mentally.
#4: At-home activities to mentally stimulate your dog when you're not home 
The truth of the matter is, when your dog isn't mentally stimulated when they're home alone, they're liable to make their own fun. And that could mean chewing up your favourite shoes, finding a way to break into the food pantry, or even plan their great escape.
Luckily, there are plenty of ways to mentally stimulate your dog even when they're home alone.
Interactive toys are a good starting point. You might need to test out a few models before landing on one that keeps your pup curious and engaged for longer than a few minutes. We would also recommend swapping out your gadgets every few weeks or months to make sure your dog doesn't get bored.
Pet cameras are another good way to interact with your doggo when you're away. The ones that allow you to talk to your pup and even dispense treats can help break up the monotony of a long work day. 
#5: Don't discount these surprising ways to mentally stimulate your dog!
You might be surprised to learn that there are a few everyday activities that you can upgrade to turn off your dog's autopilot.
The first includes mealtime. Food is a huge opportunity to mentally stimulate your doggo, and there are plenty of ways to incorporate more fun and intrigue in every meal. One way could be to serve up your dog's chow in interactive dog bowls. Some are shaped in such a way as to slow down mealtime, so that your dog eats more deliberately. 
And, swapping out the dry kibble for something with a more interesting texture can also encourage mental stimulation. Mad Paws Dinner Bowl meals aren't only fresher than the dry stuff, the consistency will also awaken your pup's senses, too!
There are other everyday activities that can easily be transformed from mundane to mind-blowing for your dog. as well. Instead of leaving your pup at home while you pop out for coffee, for instance, choose a dog-friendly place so they can tag along. 
Or, if you'll be having a friend over who also happens to be a Dog Owner, invite their pooch so that your dog can get some playtime.
These small changes may seem inconsequential to us humans, but for our puppers, they serve as another opportunity for mental stimulation.
How will you mentally stimulate your dog?
Are you already envisioning which fun commands you'll teach your clever Border Collie? Are you planning on calling in a pro to teach your Bloodhound how to scent track? Or, maybe you're thinking of putting your pup on a more engaging nutrition plan?
However you plan on switching up the routine, your pup is going to love that you took the time to learn how to mentally stimulate your dog!
Comments
comments