We humans are a pretty affectionate bunch. We love to kiss, hug and hold hands to show our love for one another, so it only makes sense to do the same with our four-legged friends! But as nice it is for us to express our love for our pups with a cuddle or two, the question remains: do dogs like to be hugged?
You may have heard pretty mixed answers to that question over the years. Some experts believe no doggo enjoys being embraced, while others believe it's down to each individual. After all, every pup has its own personality, likes, and dislikes. So we're here to help you figure out whether your dog does or doesn't appreciate the odd hug.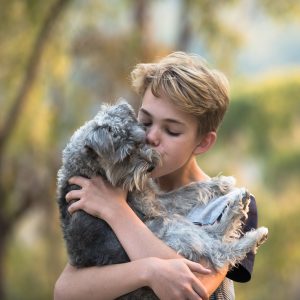 What the science says about the question "do dogs like to be hugged?"
Contrary to what you might have thought, there haven't actually been any dedicated scientific studies to determine whether or not dogs like to be hugged. In fact, the only real insight we have into the topic is a 2016 Psychology Today op-ed by dog psychology expert Stanley Coren.
Coren, a retired University of Columbia psychology professor, analysed a random sample of 250 photos of dogs being hugged. He examined the dogs' body language, particularly their facial expressions, to measure how stressed or relaxed they were.
Some of the key signs of stress and anxiety in dogs include:
Downturned ears

Half-moon eyes

Turning their head to avoid eye contact

Keeping their eyes closed out of submission

Licking their lips (or your face!)

Yawning

Raising one paw
Shockingly, in 81.6% of the photos analysed, the dog exhibited one or more signs of stress and anxiety. 10.8% were described as being 'neutral' or 'ambiguous' in response to the hug, while just 7.6% actually appeared comfortable.
According to Coren, the reason behind this is that dogs are "cursorial animals". In layperson's terms, that means they're built for fast running, and it's usually their first defence. As such, when we give our furry friends a hug, we cut off their ability to flee, thus raising their stress levels.
It's not great news, but it's also important to note that this research has not been peer-reviewed or published. Yes, Coren is an expert in dog psychology, but until there's a proper study, we shouldn't take these findings as gospel.
How to tell if dogs like to be hugged
So, we know how to tell if dogs don't like to be hugged. But how do we tell if they do? Well, it's pretty simple – as long as they're not showing any of the negative signs listed above, chances are they don't mind!
If they are showing signs of distress, you should absolutely respect their space. However, if they're constantly leaning on you or jumping as if they're asking to be in your arms, they may be in the minority of canine hug aficionados. As always, keep an eye out for any suggestion of stress or anxiety. Just like us, puppers can have good days and bad days. Just because they were up for a snuggle yesterday doesn't mean they'll feel the same tomorrow.
Other ways to show affection for your dog
With the jury still out on whether or not dogs like to be hugged, you may be wondering how else you can express your love for your furbaby. Lucky for you, the possibilities are endless!
Here are four ways to shower your pooch with affection without stressing them out.
Give them plenty of chin scratches and tummy rubs.

Just because you may not be able to hug your pup, it doesn't mean you can't give them plenty of pats! Now, you should avoid pats on the head as dogs may perceive this as a dominant action. However, there's no reason you shouldn't give them lots of scratches under the chin, on the chest, and on the belly

Take them for a nice, long walk.

There's nothing like a good stroll around the neighbourhood, to the park or at the beach to show your love for your pup. After all, for most dogs, going for a walk is the best part of their day! Can't manage it every day? Enlist the help of a

local Dog Walker

to help take the pressure off

Play with them.

One thing that's definitely

not

going to stress out your furry friend is some good old-fashioned playtime. Grab their favourite ball or fluffy toy and spend some time simply having fun together

Feed them treats.

For us humans, food is basically a love language in itself, so it shouldn't come as a surprise that the same applies to dogs! Feeding them

fresh, natural dog food

and indulging them (but not

over-indulging them

!) in the odd treat is the perfect way to show affection
Does

your

dog like to be hugged?
In short, what little research done on the subject seems to indicate that most dogs don't like to be hugged. With that said, it's important to remember that every doggo is different. The best thing you can do as a Dog Owner is simply tune in to your pup's emotions. Once you know the signs, you'll be well on the way to a strong, affectionate relationship with your pooch.
Comments
comments