Aussies have an uncanny ability of recognising each other when travelling overseas. It could be the accent, it could be the budgie smugglers, or it could just be the vibe. Whatever it is, it's a little strange how good we are at spotting one another. But what about our pupper pals? Do dogs recognise their own breed when they run into one another at the dog park? And what about photographs? Can they identify their own species (or breed) on TV or the packaging of their favourite kibble? Let's find out once and for all.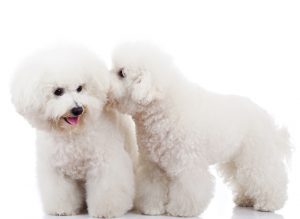 Do dogs recognise each other?
Before asking, "do dogs recognise their own breed?", let's backtrack a little and ask if they recognise other dogs, full stop. You might think the answer is an obvious "yes", but it's only been in recent years that we've figured out the answer.
In 2013, a group of French researchers examined nine doggos, putting them through a series of tests to test the hypothesis. The results proved that not only could dogs recognise other dogs, they could do so even on a computer screen! That explains why so many pups are glued to the TV whenever another pooch appears.
Do dogs recognise their own breed?
Ok, so now that we know dogs can recognise other dogs, it's time to find out if they can recognise their own breed.
Chances are you've run into a clone of your pup once or twice before while on a walk. Perhaps your friend or experienced Pet Sitter has a pooch that could pass as your dog's twin. But can our four-legged friends identify one of their own kind?
Unfortunately, there hasn't been any research conducted on the matter to give us a definitive answer. According to the World Canine Organisation (a.k.a. FCI, short for Fédération Cynologique Internationale), there are 339 distinct breeds of dog. These breeds are then sorted into 10 breed groups:
Sheepdogs and cattle dogs (excluding Swiss cattle dogs)

Pinscher and Schnauzer, Molossoid breeds, and Swiss mountain Dogs

Terriers

Dachshunds

Spitz and primitive types

Scenthounds and related breeds

Pointers and Setters

Retrievers, flushing dogs, and water dogs

Companion and toy dogs

Sighthounds
Keep in mind, the officially recognised breeds and breed groups don't even include all the crossbreeds we know and love! It's safe to say that's a lot of breeds, and many humans can't even tell the difference between one breed and the other. Therefore, expecting our pups to do the same (or even simply identify their own breed group) is a big ask.
Though there is plenty of anecdotal evidence to suggest that dogs can indeed recognise their own breed, realistically, it's unlikely to be true. Still, it's incredibly impressive that dogs are able to recognise their own species considering not every animal can. Think about it this way – a Chihuahua can tell it's the same species as a Great Dane and a Samoyed. How cool is that?
So, when you see your Golden Retriever happily interacting with another Golden, it doesn't necessarily mean they recognise them as their own breed. We humans tend to project human characteristics onto animals quite often. Therefore, it's more likely that we're projecting our own enthusiasm for seeing two of the same breed onto them, whereas they're probably behaving just as they would around any dog. If they're a highly social dog, or in a particularly playful mood, that's exactly how they'll act.
One factor that really throws a spanner in canine communication is face shape. One study has shown that dogs with different facial structures communicate differently. Think about it this way – a Pug's face shape doesn't have much in common with a Greyhound's face shape, does it? Dogs with longer snouts (like Greyhounds, German Shepherds, and Poodles) use them quite frequently when communicating with other dogs. Pug-nosed breeds like Shih Tzus and Bulldogs are naturally at a disadvantage here, and miscommunication may occur as a result. It's this miscommunication that leads many Dog Owners to think their pup has a preference towards some breeds while seems to dislike others. In reality, it comes down to the fact that some dogs can simply make more social signals with their face than others.
Do they recognise their own siblings or parents?
We've all seen those adorable videos of pups reuniting with their brothers and sisters and seemingly recognising one another. At least, that's what it looks like. But do dogs really recognise their own flesh and blood, or are they just excited to see another pooch?
While there haven't been many studies on the subject, many experts believe the answer depends on a few factors. Firstly, how long your dog spent with their siblings or mother (they're usually separated from their dad altogether for the first few weeks) as a puppy.
Dogs can be weaned as early as six weeks and sent to their forever home not long after. For these pooches, it's unlikely that they'll be able to remember their littermates or even their mother. For dogs who spent 16 weeks or more together as puppies, it's entirely possible that they'll remember each other's scent, and thus recognise them as their own family. That said, If it's been more than about five or six years since they last met, they might not recognise one another.
Does

your

dog recognise their own breed?
Regardless of the lack of evidence, there are many Dog Owners who are adamant their dog can identify their own breed, and until we have the research, we can never know for sure. Who knows, your pup might be a breed super-recogniser! Tell us in the comments if (and why) you think your pooch can recognise their doppelgangers.
Comments
comments