Dogs love bones and meaty treats. Cats are partial to chicken. Among other things, fish eat algae and fish food. Cows go mad for grass. And rabbits, well, despite how much their cartoon counterparts seem to enjoy carrots, they mostly live on grass, too. But what do some of our feathered friends like tucking into? Have you, like us, ever wondered, "What do ducks eat?"
It turns out the answer goes far beyond the bits of bread we give them at the local duck pond. Whether you own a duck, are a trusted Pet Sitter looking after someone else's duck, or are simply curious about what these creatures eat, we've well and truly quacked the case!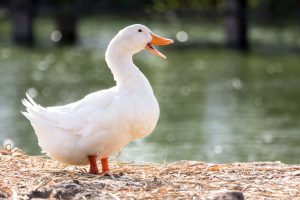 What do ducks eat?
Ducks are actually omnivores, meaning they eat mostly plants and a little meat. In the wild, they enjoy a varied diet of berries, fruits, nuts, tiny fish and amphibians, fish eggs, algae, worms, snails, and insects.
Even if they've been domesticated, ducks should still eat a variety of foods. Just like you, us, and our other feathered and furry friends, ducks have unique nutritional needs that are mostly met through diet. They require the right balance of vitamins, minerals, and nutrients to ensure they stay happy and healthy. 
If you're raising ducks at home, their diet should mostly consist of commercially prepared food designed for their age. You can buy specialised pellets developed specifically for waterfowl, including ducks, but they can eat food suitable for chickens, too.
Ducks should also eat a variety of other foods to complement the commercially prepared pellets. Healthy foods you can feed ducks include:
Earthworms or mealworms

Bird seed (yep, the same type you'd buy for a budgie or wild birds!)

Oats

Wheat or barley grains

Rice – this can be cooked or uncooked

Cracked corn

Corn kernels or peas

Lettuce

Veggie peels, as long as they've been cut into small pieces (there are a few exceptions to this, which we'll go through shortly)

Berries including strawberries, blueberries, raspberries, and blackberries

Other fruits like melon, stone fruit (apricot, plum, peach), apple, pear, and banana
You should also ensure they have access to a water bowl that contains fresh, clean water.
Now we know the answer to "What do ducks eat?", what can't they eat?
Our first tip is to avoid feeding bread to ducks. Despite being a popular choice at the duck pond, it's not actually that good for them. Bread doesn't contain many of the vitamins, minerals, fatty acids, and amino acids that ducks need, and is full of carbohydrates and salt. Excess bread may even lead to angel wing, a wing deformity that can inhabit a duck's ability to fly.
Other foods to avoid include:
Baked goods

Chips and crackers

Popcorn

Chocolate

Onion and garlic

Avocado

Raw potato

Nightshades such as tomato, eggplant, and capsicum

Citrus fruits

Mango
Other helpful hints for feeding ducks
Aside from what to feed ducks, there are some important things to know when it comes to how to feed them. Here are a few tips:
Make it bite-sized.

Because ducks don't have teeth like dogs and cats, they're unable to chew their food. This means the size of their food is crucial. Ensure it's cut into tiny pieces that won't cause the duck to choke
Watch how much you feed them.

The amount you feed a duck depends on its age. When a duck is very young, you can give it free reign and let it decide how much to eat. As it gets older, though, check how much commercially prepared feed it needs, according to its age and breed
Clean up uneaten food

. Fresh veggies, fruits, and worms can turn bad and rot if they're left out for too long. If your duck doesn't seem to be hungry or has finished feeding, clean up leftovers as quickly as possible
Foraging is fine – and fun!

In the wild, ducks are natural hunters. If you've got a duck at home, you can encourage it to maintain this instinct. If your garden allows it, your duck can be left to forage for worms and bugs
Should I feed ducks at the park?
Generally speaking, it's best to avoid feeding ducks at the park. Not only can foods like bread and dry crackers lead to nutritional deficiencies and other conditions, but feeding wild ducks may hinder their natural development.
We know that wild ducks are born hunters. By becoming too reliant on humans, they can lose the ability to forage for food. They also end up missing out on all the good things like insects, seeds, fruits, and aquatic plants, which deliver so much nutritional value.
If you really want to feed the ducks at your local park or pond, do it sparingly – don't turn it into a regular habit. And try to only stick to foods that are good for ducks while you're at it. You don't want any fowl-feeling creatures on your hands!
Comments
comments