Whether you or your local Dog Walker are taking your pooch to the dog park, a harness is a great way to keep your pupper safe en route. But take one look at a harness and you may feel a little overwhelmed by its many straps and clasps. We get it; compared to a simple collar and lead, dog harnesses are no mean feat. So, you may well be wondering how to put on a dog harness properly.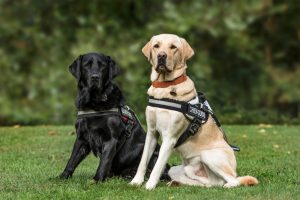 We're here to help you navigate these often perplexing contraptions.
Why is it so crucial to know how to put on a dog harness?
Aside from the satisfaction of putting on a dog harness properly, there are several reasons why it's important to know how to fit one. 
Firstly, a poorly fitted harness can be downright uncomfortable for your dog. This might cause them to pull on the harness in an effort to reduce their discomfort. It can also cause your doggo to skew their walking style or lean to one side. Both of these may lead to muscle and structural problems. And lastly, if a harness just isn't fitting right, your doggo might be able to easily slip out of it.
What types of harnesses are available?
When it comes to purchasing a harness, you've got almost endless choices. There are varying styles, prints, fits, leash attachments, accessories, and more. Generally speaking, though, harnesses fit into a couple of main categories:
Overhead harnesses.

With an overhead harness, the harness goes over your doggo's head. The harness is then fastened behind their front legs
Step-in harnesses.

A step-in harness allows your dog to step into the leg loops before you strap the harness around their back. It's ideal if they don't like things going around their heads. In many cases, step-in harnesses are easiest to put on, but this really depends on your doggo's harness preference
Within each of these harness types, there are also different leash attachments. A back-clip harness allows you to affix the leash to the back of the harness. A front-clip harness, on the other hand, has the leash sitting at the front. It's a great option if your dog is an aggressive leash-puller. Then there are some harnesses with a dual-clip mechanism, where you can clip the leash on the front or back.

A step-by-step guide on how to put on a dog harness
Now that we've established the basics, it's time to learn how to put on a dog harness! 
Step 1: Make sure the harness is the right size for your doggo
Along with the wide variety of harnesses you can buy, there are many different sizes available. Unfortunately, sizes aren't always uniform across various brands and styles. To ensure you buy the right harness, measure your dog's height, weight, and the circumference of their neck and girth. You can then use each harness's fit guide to work out which one is best.
Step 2: Keep calm before putting the harness on
You want your dog to be in a relaxed state before putting on a harness for the first time. Familiarise them with the harness by allowing them to sniff it. Then, sit down next to your dog while they're standing still. This will make the process much easier on both of you. And make sure you're feeling relaxed too, as your dog will likely feed off your emotions.
Step 3: Time to get that harness on!
It might seem obvious, but the first step is to ensure the harness is pointing in the right direction. If you've bought either a front or back-clip harness, your job here is easy. If you've got a dual-clip harness, check the harness's instructions for a diagram.
Putting on an overhead harness? Simply place the harness over your dog's head and ensure the chest piece is lying flat against their chest. Next, do up the straps around your dog's body, just behind their front legs.
If you're using a step-in harness, lay it flat on the floor. Then, place your dog's two front paws into the appropriate loops. Once they're in, pull the harness up and strap it around their back.
Step 4: Check the fit
Before you leave the house, let your doggo walk around in the harness. Observe their movements, gait, and any obvious issues. If anything looks awry, you can easily adjust the straps until you get the right fit.
Make sure the harness is snug, but not too snug. You should be able to slip two fingers into the straps, and the chest piece shouldn't sag at all. Your doggo should also move around comfortably and freely, without being able to slip out of the harness. 
Tips for dealing with particularly wriggly or reluctant dogs
Even with these basic steps up your sleeve, you might still have a doggo who'd rather wiggle away from their harness than put it on. Or, they might just be a little sceptical of it. So, what can you do?
Start slow
A three-hour hike may be a bit of a tall order during your dog's first harness experience. Instead, start by simply letting them get familiar with it. 
Once it's strapped on, let your dog roam around the house for a while. Then, around the garden. Then, attach a leash and let them explore the house and garden. Then, go around the block, and finally, on a longer walk. Eventually, that three-hour hike might very well be possible.
Use positive reinforcement
You want your pooch to equate the harness to good times. Positive reinforcement is a great way to do this, as it builds a favourable association between your dog and the harness. On the other hand, studies show negative reinforcement does the opposite and can damage your pup's physical and mental health. So, every time you put on the harness, give your pupper praise, a belly rub, or their favourite treat. They'll hopefully soon start to enjoy both the process and the result of wearing the harness.
Call in an expert
If all else fails, there's absolutely nothing wrong with calling in a professional dog trainer. They can help get your doggo used to wearing a harness by implementing specialised training techniques. Eventually, your pooch may come to love their harness – and the fun walks that come with it!
Comments
comments