There are plenty of simple ways to improve your dog's kibble that will have them drooling every time you take out the dog food bag. Whether your furry friend is a less-than-enthusiastic eater or you're looking to add more mental stimulation to their day, these easy kibble improvements will be sure to awaken their senses. And, the extra nutritional boost doesn't hurt either! Take a look at these 6 tips to transform kibble meals!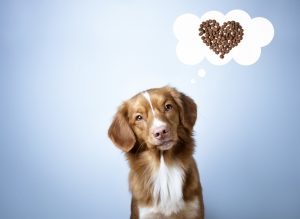 #1: Stir in some bone broth
Bone broth has been lauded for its nutritional properties, making it a great addition to your dog's food. Bone broth contains minerals like calcium, iron, phosphorus, and potassium, as well as vitamins A and K2. You'll also find essential fatty acids in bone broth like Omega-3 and Omega-6. 
Another benefit of adding bone broth to kibble is the added water content. If you have a highly active dog who tends to ignore their water bowl, adding bone broth to their food can help keep them hydrated. 
For picky eaters or sick doggos, providing them with a flavourful bowl of kibble, softened from the bone broth, can soothe their stomach and entice them to eat. And, while there was a concern a few years back about toxic metals in bone broth, studies have found that most commercial and homemade bone broth are not likely to contain harmful amounts of toxic metals.
The key to using bone broth to improve your dog's kibble is to buy dog-friendly broth or make it yourself. Bone broth for humans often has high amounts of salt and other seasonings that make it unfit for our canine companions. 
#2: Add a dollop of mashed pumpkin or sweet potato
If your dog has ever had an upset stomach, your vet might have recommended pureed squash or sweet potato for its easy digestion. Even when your doggo is feeling fine, squash and sweet potatoes offer a range of health benefits. Pumpkin and many other types of squash contain Vitamins A,C, and E, while sweet potatoes are high in Vitamins C and B5. Both are great sources of dietary fibre and potassium.
As with bone broth, it's better to stick with homemade puree than the canned variety, which could contain preservatives and seasonings. 
#3: Garnish with crunchy toppings
There are plenty of fruits and veggies, such as cucumber, carrots, and bananas, that are dog-friendly and dog-popular! And, they provide their own lists of nutritional benefits, including vision-boosting vitamins and heart-healthy minerals.
Dog-friendly veggies can also help improve your dog's breath and promote dental health, while providing more flavours and textures to liven up their bowl of kibble.
The best way to add greens to your dog's food is to grate it or cut it up into small chunks, especially if your dog eats their food like they're trying to break the world record for speedy slurping. Don't go overboard, as too much dietary fibre can cause bloating and discomfort. 
#4: Add a dash of fatty oils for coat health
Essential fatty acids are a brilliant way to make your dog's coat shiny and soft. But, fatty oils aren't just good for their fur! Cod liver oil, for instance, offers benefits for heart health and cognitive function. And, it may help lower inflammation and blood pressure. 
It is important not to add too much fatty oil to your dog's food, so don't add it to your dog's kibble if it's already high in this nutritious ingredient.
#5: Consider mixing in raw or lightly cooked food
While kibble itself should be balanced and nutritious, mixing it with raw or gently cooked food can make it more of a sensory experience for your dog.
The taste and texture of fresh, all-natural ingredients will make each mealtime feel like a special occasion. 
Whenever feeding your dog fresh food, it's important to be mindful of proper hygiene practices. Avoid cross-contamination by using different serving utensils for your dry kibble and fresh ingredients, cleaning up surfaces, and washing your dog's bowl after every meal.
#6: Upgrade the kibble itself
Some dogs are happy to gobble down kibble even without the added garnishes or broth. If your dog is wild about their kibble as is, you might improve their mealtimes by investing in a higher quality dry dog food.
Give your dog the best by choosing kibble that is locally-sourced, full of super foods, and all-natural.
Non-food ways to improve your dog's kibble
There are also ways to make mealtimes more exciting even without changing a thing about their food! Here are a few other creative ways to improve your dog's kibble:
Incorporate training.

When you have a bowl of delicious food in your hand, you can bet that your dog will be engaged in the training process! Mealtimes are a great opportunity to practice tricks and appeal to your dog's work drive.
Set up a kibble scavenger hunt.

This is an especially fun game for scent hounds, but all dogs will appreciate a fun hide-and-seek activity for their meals. Kibble is ideal because you don't have to worry about making too much of a mess, and your dog will love to flex their tracking skills to find hidden dog food around the house or backyard. For best results, start with an easy scavenger hunt set-up and then make it more difficult as your dog gets better at tracking.
Use a puzzle feeder or slow feeder.

Dog bowls and puzzle feeders that require your dog to problem-solve for their meals are a brilliant way to spark interest in their kibble. This option is especially ideal for dogs at high risk of bloat who can benefit from slower eating habits.
How will you improve your dog's kibble?
Are you inspired to don your chef's hat and start mashing up sweet potatoes? Or maybe you're looking forward to garnishing your pup's meal with some shredded carrots or cucumber spirals. And if you haven't considered upgrading your dog's kibble, now is a great time!
However you plan on adding a new spin on your dog's mealtime, we'd love to know how you might improve your dog's kibble!
Comments
comments