For many devoted Cat Owners, the question of "Should you bathe your cat?" is a confusing one. While cats are expert auto-cleaners, there are some interesting points to be made in the support of cat baths. Plus, some specific cats may need a little human intervention. If you've ever asked yourself, your cat-loving friends, or your trusted Cat Sitter if you should bathe your feline, you've come to the right place. We're about to get to the squeaky-clean truth about cat hygiene.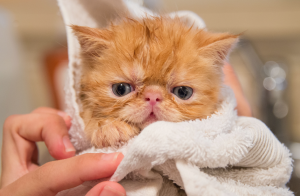 If you don't bathe your cat, don't panic
Let's say you were to call your vet and tell them, "I think I'm a bad Cat Owner because I've never given my cat a bath." Chances are, they might laugh a little. In fact, your vet would probably be touched at your good intentions.
But at the end of the day, your cat probably doesn't need your help. Cats spend half of their waking time bathing themselves, and after thousands of years of surviving without human intervention, they've gotten pretty good at it.
Just how good are cats at self-bathing? Here are some of their cat bathing accomplishments:
Shaking out dirt and loose hair
Detangling their fur and preventing matting
Warding off fleas and other parasites
Keeping themselves cool in the absence of sweat glands
Maintaining healthy skin with normal oil levels
Cats have even developed specialised barbs on their tongue to make grooming more efficient, like a built-in comb. And when they live in colonies, cats will bathe each other, which solidifies bonds and ensures that older cats remain clean even when they've lost mobility.
Not only is self-bathing necessary for a cat's health, but it also makes them happy. Felines release endorphins during self-bathing, just like you might sign up for a spa day when you need a little self-care.
With all of these wonderful benefits, then, it makes sense that humans might think twice about bathing their cat. Plus, bathing can cause undue emotional stress. After all, many cats don't simply dislike water, they actually fear it. Forcing them into the bath can negatively impact their mental health and your relationship. It can make it harder for them to trust you, and anyone else, from family members to friendly Pet Sitters.
That seems like the conclusion, then, right? The answer to "Should you bathe your cat?" is no.
But hold on a minute! That's not the end of the discussion.
Should you bathe your cat? Some circumstances require it
In the majority of cases, Cat Owners don't need to worry about bathing their cat. And for cats who really hate water, it should be avoided so as to lower their stress and preserve your hard-won trusting relationship.
But there are a few situations in which the answer to, "Should you bathe your cat" is yes.
First, let's talk breed. Some cat breeds actually require bathing. Why? Because we made them that way. Cats like the Sphynx and the Selkirk Rex are not what you would consider natural breeds. They were altered to have unique coats, either hairless or curly. As a result, they must be bathed to maintain proper health.
If you can believe it, some cat breeds enjoy bath time. Turkish Vans, Turkish Angoras, Savannahs, Abyssinians, and Siberian Cats are all known for their love of water. So, if you can't keep them out of the sink, you might as well take advantage and keep them extra clean.
Other candidates for regular bath time include elderly cats or cats with limited mobility. Even if there are other cats in the home who can help out with grooming, it's still a good idea to step in and keep that coat clean.
For cats who need or want regular bathing, don't exceed more than one bath per month or 6 weeks.
Finally, there are some situations in which a one-time bath may be required. For instance, if you've just adopted a cat off the street or they've otherwise been exposed to fleas or other parasites, you'll want to bathe them. As talented as cats are at self-grooming, you don't want to allow an infestation to go unchecked. So get a special flea shampoo and bubble bath it up. The same goes for if your cat has gotten into something particularly difficult for them to remove themselves or something that poses a risk to their health if ingested.
What if your cat is constantly dirty?
Some Cat Owners assume that if their cat is dirty all the time, it's just one of their fur baby's unique quirks. They may choose to bathe their less-than-clean cat to compensate for their feline's bad smell or matted fur.
It's important to note, however, that improper self-bathing could be a sign of a medical condition or severe stress. Instead of bathing your cat, get the advice of a vet and rule out any underlying causes.
Should you bathe your cat more if you have allergies?
Unfortunately, when it comes to cat allergies, it's not all in the fur. While allergens are present in cat dander, they can also be found in cat saliva and urine. That's why no cats, even hairless cats or silky haired cats, are considered completely hypoallergenic.
If someone in your family has a cat allergy that can't be solved with medication, bathing is not likely to make a difference.
Bathing and grooming are two different things
One last thing that we'd like to highlight is that however you decide to answer the question, "Should you bathe your cat?", you shouldn't mix up bathing with grooming.
While cats self-bathe, you're not completely off the hook for some regular grooming tasks. Brushing your cat, for instance, is an important way that you can prevent hairballs or other digestive upset related to self-bathing. Regular brushing will also prevent tangling and matting, and it can even help to keep your cat cooler during the warm summer months.
You will also want to wipe your cat's nose, eyes, and ears to keep them clean and free of bacteria. Dental hygiene is another priority when it comes to grooming.
Final thoughts on the age-old question, "Should you bathe your cat?"
As is often the case when it comes to responsible pet care, the answer is… "it depends." Different circumstances, such as age, breed, and disposition will determine whether you should bathe your cat or allow them to bathe themselves.
And however you choose to answer the question, "Should you bathe your cat," remember that your grooming responsibilities extend beyond the bathtub. Cats rely on their loving humans for regular brushing, dental hygiene and other grooming tasks.
Comments
comments