Why do dogs bury their favourite new toys? It seems like as soon as you bring home a great new toy for your furry friend, they've already got the perfect place in mind to bury it in the backyard. Not only is it frustrating to deal with the damage to your garden, but you might be scrambling to find toys to play with. Plus, toys are a great way for your doggo to bond with their Pet Minder – but not if they've buried them.
In this article we're going to tackle the question of "why do dogs bury?" You might say we dug deep to uncover the truth for this one (we can't resist a good pun.)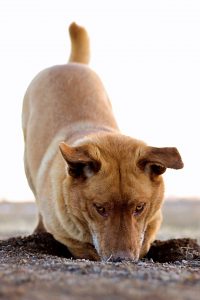 "Why Do Dogs Bury?" Option One: Instinct
There's good news and bad news here. The good news is that if your dog is burying out of instinct, it means there are no psychological or neurological issues to worry about. Your pup is simply doing what evolution and breeding taught them to do.
Instinctually, a dog will bury items for the simple benefit of keeping them safe. In the wild, burying food is a good way to protect it from other animals. It also lowers the risk for bacteria – when food is underground, it's cooler.
In their wonderful life with you, your pup doesn't need to bury food. But that drive to hide what is most important to them remains. The result? They bury their beloved chew toys in the backyard.
For some breeds, this behaviour is more common. Doggos who evolved to dig, such as Beagles and Scottish Terriers, may find that activity more appealing.
And now, we have to talk bad news. Ingrained behaviours in your doggo's DNA could be much harder to get rid of. It will take training and patience to teach them that there are more appealing things to do than bury their toys in the dirt.
"Why Do Dogs Bury?" Option Two: Boredom
If someone left you alone all day without much to do, you might also think up something to do in the backyard. Maybe you would mow the lawn or replant the flower bed. To your dog, burying their toys seems just as natural as these household tasks may seem to you.
A well-stimulated, well-exercised dog, however, won't be too concerned with burying their toys. They'll feel so relaxed after their big day that all they'll want to do is snuggle with their favourite human.
There are a few different ways to occupy your dog throughout the day, even when you're gone. One option would be to hire a trusted Dog Walker in your area who can take them for a stroll in the middle of the day. Another option could be to invest in some mentally stimulating toys for your pup.
And of course, when you are home, make sure to take your dog out for a nice long walk or jog. And, you'll want to schedule in some playtime or maybe a training to keep them engaged.
"Why Do Dogs Bury?" Option Three: Anxiety and Stress
Whether your dog is currently feeling stressed or has suffered a difficult past before you adopted them, they might be coping by hiding their resources. In their mind, the world is not safe and they need to protect what is important to them.
Separation anxiety is a common problem for many dogs who aren't used to being alone. To learn more about possible treatments, check out our article on treating separation anxiety in dogs.
If your dog has a habit of hiding toys in the backyard, it's a sign that they're very anxious about the idea of someone stealing those toys.
Setting Your Dog Up For Success
Digging can be a frustrating behaviour to deal with, but it is treatable. In many cases, giving your doggo more attention and easing their anxiety can convince them not to bury their toys. If the practice persists even when you feel that you've tried everything, talk to a vet or trained animal behaviourist.
Does your dog bury their beloved toys? Let us know the tricks you've learned to prevent your dog from stashing their toys in the backyard!
Comments
comments