Why do dogs howl at sirens? Are they trying to alert the neighbourhood that an emergency is underway? Is it their way of founding their own doggy singing group? Or, are our canine companions sharing their disapproval of such a high-pitched sound?
Not all doggos tilt up their snouts at a distant siren, but the ones that do are a bit of a mystery. In this article, we'll talk about the main theories behind the behaviour. And, we'll cover some solutions for you and a dedicated Pet Sitter to try if your dog's howling is a bit beyond the norm.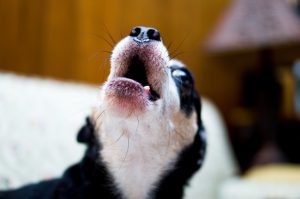 Why do dogs howl at sirens?
The short answer is, we don't really know. Howling in domestic dogs isn't a well-researched field. But there are some credible theories from dog behaviourists that we can explore.
One such suggestion is that dogs are bothered by the loud noise of sirens from emergency vehicles. They may be howling as a way to show their displeasure or frustration.
While this explanation is certainly possible, it's not universal. Plenty of puppers seem to enjoy belting out a deep howl when they hear a siren in the distance. You may notice them pacing the house with tail wagging and ears erect.
Another, more widely accepted theory is that it goes back to their wild past. Wolves, of course, howl as a form of long-distance communication. They use their howl to call out to members of their pack and warn rival packs to stay away. Amazingly, each wolf has a distinct howling pattern, and wolves in different regions have howling dialects that are unique to their species. 
So, perhaps it's a way for your doggo to introduce themselves to what they assume is a dog passing through their territory! When they're at their friendly Dog Sitter's house, they may be telling the world that they're new to the neighbourhood.
Even so, this behaviour isn't exactly the same as a wolf howling. Wolves who don't know each other tend to be more cautious about letting their whereabouts be known. And, they probably wouldn't joyfully sing along to another wolf's howl unless they were part of the same pack. Unless your dog is an undercover fire station dog while you're at work, it's not likely that they would consider an emergency siren an in-pack call.
Here's the more likely explanation: our modern day doggos are more like wolf pups than adult wolves. Wolf pups haven't yet learned about the purpose and risk of howling, so they tend to howl at any and all interesting sounds. By the time wolf pups reach 6 months, they largely abandon the indiscriminate howling and stick with the social cues of their older pack members.
Considering our history with wolves, it makes sense. Through the domestication process, we effectively puppified wolves so that they would be friendly and docile. It's no surprise that thousands of years later, our puppers would still howl adorably at a passing siren just like a fuzzy wolf pup.  
Does breed help answer the question, "Why do dogs howl at sirens?"
Most dogs, regardless of breed, are able to howl. But some are more willing to join in a fun howling session than others. Dog breeds with a penchant for howling include Siberian Huskies, Beagles, Alaskan Malamutes, Bloodhounds and Shetland Sheepdogs. 
Why these dogs howl more than others can reveal a lot about their breed history. Beagles and Bloodhounds, for instance, have developed superior howling capabilities as a way to communicate with their handlers when they're far ahead on a scent trail. Huskies, Alaskan Malamutes and other northern Spitz dogs may howl because they're more closely related to wolves than other breeds.
But just because a dog comes from a breed with a howling background doesn't mean that a siren will prompt them to hop up on the sofa and point their muzzle to the sky. Individual doggos decide for themselves whether to howl or snooze when they hear a siren passing.
What can you do when your dog is howling at sirens?
When dogs howl at sirens, they typically stop when the siren has passed. But, if you live near a hospital or fire station, you might be dealing with howling throughout the day and night. It's not easy to train out a behaviour as ingrained as howling, but there are solutions: 
Sound desensitisation.

If your dog howls in response to specific sounds, the only way to stop the behaviour will be to change their relationship to that sound. Desensitisation or counter-condition can include exposing your dog to the sound in controlled settings, such when they're enjoying a meal, or at low frequencies to build up their tolerance and teach them to associate the sounds with good things, like treats. 
Reward them when they don't howl.

Any time that your dog hears a trigger and doesn't howl, rewarding them with praise or a treat can also help to curb their howling habit. It can also be helpful to teach the "quiet" command ahead of time.
And what if your doggo is howling for no reason at all? Here are a few reasons why dogs may howl even without a trigger: 
Separation anxiety.

Wolves who have been separated from their pack may howl as a way to reunite with them. And, our dogs also howl when they're feeling lonely. To deal with this type of howling, you'll want a plan to address their loneliness or separation anxiety, such as having them stay with a dedicated Pet Sitter while you're gone.
Boredom.

Maybe they're practicing their howling skills or maybe they're inviting someone to come play with them. Either way, a bored dog can howl for hours on end, much to the annoyance of your neighbours. To help deal with doggy boredom, make sure that your dog gets plenty of mental stimulation in the form of playtime, exercise, puzzle toys, and training.
Howling doesn't typically go away on its own, but by understanding why your dog howls, you can lay out a plan to phase out the behaviour.
Have your own theories to answer "Why do dogs howl at sirens?"
In the world of dog science, we're still learning about dog howling behaviour. And it may take a few more years of speculation before we know for sure. 
So, what are your thoughts? Do you think you know why your pup points to the sky and lets out a howl? Let us know your answer to "Why do dogs howl at sirens?"
Comments
comments