While your doggo may be happy to run until they drop, there are risks to exercising your dog too much. Just like humans can injure themselves from a too-intense weight-lifting session or by jumping into a marathon without training, your pooch can also suffer from exercise-related injuries.
But at the same time, under-exercising your dog can also cause health concerns. It's only when you find the right balance can you be sure that your dog is getting the exercise they need without overdoing it.
In this article, we'll talk about the factors like breed, age, and the unique needs of individual dogs that play a role in finding the right level of exercise for your dog. And, we'll highlight some of the red flags of overexercising so that you can be sure that you're not exercising your dog too much.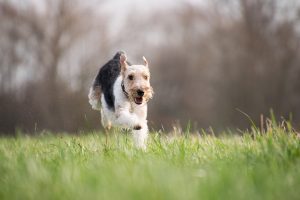 Exercise and age
Age can serve as a helpful guideline to your dog's ideal exercise level. In particular, puppies and senior dogs are at the highest risk for over-exercising.
Let's start with the young pups. These little bundles of energy are some of the most vulnerable to the risks of over-exercising. And there are two reasons for this.
On the one hand, puppies haven't learned when to call it quits. They want to have fun and learn about the world around them. And above all else, they want to be involved in whatever their beloved human is doing. So, they're not great at regulating themselves even when their bodies are telling them to slow down.
But it's not just their enthusiasm that puts puppies at risk. Puppies, especially ones that will grow up to be large dogs, have a critical growth period before they reach the age of 1 or 2 years old. During this time, excessive strain on their muscles and joints can prevent them from developing normally and put them at risk for stress fractures. So, it's important not to exercise your dog too much during this vulnerable stage. 
Senior dogs are also at risk for overexercising. By the time that your dog reaches around 7 to 9 years old, you'll probably notice them slowing down. And that's because the normal ageing process can lead to stiff joints that make exercise painful. Overdoing it in the senior years can lead to discomfort or injury, especially if your puppy-at-heart is doing high-impact activities like running.
Breed can help you determine if you're exercising your dog too much
Some dogs were built for speed, endurance, and agility. Others were bred to be lap dogs. There's such a wide range of exercise levels within the dog world, that breed is a huge factor in determining whether you're exercising your dog too much.
Let's consider the most obvious example of dogs who weren't built for long periods of exercise: the so-called brachy breeds. These short-snouted puppers, including French Bulldogs and Shih Tzu, were not bred to herd sheep or conduct rescue missions. If you try to exercise them too much, you might run into some serious health issues, like collapsed trachea or heat stroke.
At the same time, that's not to say that working dog breeds are not at risk for over-exercise. In fact, some dog breeds have been selected for their endless enthusiasm to work! These breeds, especially Border Collies, Australian Shepherds, Cocker Spaniels, and similar working dogs, will exercise to the point of exhaustion. For these breeds, it can be difficult to know if you're exercising your dog too much, because they never seem to get tired.
Now, there are some dog breeds who are at lowest risk for over-exercising, simply because you'd have a hard time convincing them to get their heart rate up, at all! These include some guarding dogs like the Maremma Sheepdog and Chow Chow. Like all dogs, these dogs can exercise too much. But, they're more likely to find a nice shady spot to rest when they've had enough.
What this tells us is that it's important to consider your specific dog's breed when thinking about exercise levels.
Signs you're exercising your dog too much
No matter if you've got a playful Poodle or a mellow Mastiff, it's a good idea to know the signs that you're exercising your dog too much. Here are some common ones:
Your dog shows signs of stiffness and discomfort after exercising.

Just like you might feel sore after that new exercise class, your dog will show signs of pain if they went too hard the day before.

Limping or favouring one of their legs

. This can be an indication of joint pain or injury as the result of excessive exercising.

Hesitation to go outside or keep up with your activities

. Eventually, your dog is going to run out of steam. You might notice that they aren't as enthusiastic when you grab the car keys, linger in the car when you arrive at the dog park, or simply sit down in the shade on the side of your running trail. These are all good indications that you're exercising your dog too much. 

Damage to the paw pads

. Cracks on your pup's paws can develop for reasons other than excessive exercise. But, if it's combined with the other signs on the list, it's likely that your doggo is doing too much.
If you notice these signs, make a plan to decrease your doggo's exercise schedule. If your dog is showing signs of severe fatigue or discomfort, it's also a good idea to see your vet.
How to find the right exercise level for your dog
Looking for ways to make sure your dog stays active but doesn't go overboard? There are some simple changes that can help:
Schedule more frequent, shorter activities rather than long, intense exercise sessions.

Taking your dog for regular brisk walks throughout the week, for instance, is a safer alternative to waiting for the weekend and then taking your dog on a 10k. If you're not home during the week, a friendly Dog Walker can help you get your dog on a more consistent walking schedule. And, if you're not sure how much your dog should walk, take a look at our article,

How Much Do You Need to Walk Your Dog?

.

Swim, don't run

. Swimming is a wonderful low-impact activity that is great for dogs of all ages. Brachy breed dogs aren't the best swimmers, but with supervision and life jackets, they can also enjoy a nice splash in the water.

Switch up your exercise activities.

As we covered in our article,

How Can I Train My Dog to be Fitter?

, there are plenty of creative ways to add some variety to your exercise routine. By changing up the activities, your dog won't suffer from wearing down their joints with repetitive motions. And, you'll even be able to offer them more mental stimulation by switching up the routine.

Make sure your pup is on a healthy, high-protein diet.

No matter how much exercise your doggo needs, they'll be stronger and more active with a nutrient-rich dog diet. Mad Paws Dinner Bowl can give them the energy to go the distance, and the vitamins they need to recover.
With these simple changes, you can ensure that you're not exercising your dog too much whilst still keeping them healthy!
Comments
comments