If you're looking to leave your furry friend with a veteran, you can't get much more experienced than Donna. A resident of Glen Iris, VIC, Donna is one of the state's busiest Pet Minders. In this feature, our May Pet Sitter of the Month shares the secrets that make her and her family such a success. 

Why do you love being a Mad Paws Pet Sitter? 
I am so grateful that simply downloading this app has made such a big change to my family's life! Mad Paws are so easy to deal with and I am always thrilled when I receive a new booking enquiry.
My husband, kids, and dog Daisy love having new furry visitors to get to know. We have also met so many precious people who find leaving their pets immensely difficult and I enjoy helping them. Most importantly, I love seeing how happy pets are when they visit with us and relax into family life. They are all so different and are truly furry bundles of love.
What's your favourite thing to do with your furry clients?

 
I have dogs that visit regularly and I get a lot of pleasure from our trips to a local off-leash park. We have special spots we like to visit including a very sniff-worthy palm tree and a hallow log. I also love seeing their smiles when they break out into a run and their ears flap. I also really enjoy when they are collected by their families. (No, not for that reason!) I love seeing the reunion of happy Owners and excited pets as they recognise their Owners – it's always very sweet.
What was the first pet you ever owned? Do you have your own pets now?

 
I grew up on a farm, so I loved being surrounded by farm animals and wildlife. As a child I especially loved calves and would sleep with them in a clover paddock! We also had a stray cat visit that had kittens, which was amazing. I had a fish tank and a budgie named Timothy. When I was older my parents gave me a Chihuahua, who was officially the first dog ever allowed to live inside. Now, I have my own family and we have a beloved rescue pup Daisy (who we fell in love with after seeing her on the Pet Rescue website), cat Wilson, fish, bantam chickens, and budgie.
Do you have any particularly memorable furry guests?
One of the first long stays we had was with a Labrador Husky we looked after for 40 days (and 40 nights). When he left it was a very emotional time, we all so upset and missed him terribly.
Another was a very timid pup we had for a long stay. Not long after he returned home to his family he was attacked in an off leash park and passed away. Hearing the news was heartbreaking.
More recently, we have been caring regularly for a 15 year old rascal. He likes to be let in an out of doors at certain times, eat whenever he's hungry, and preferably not leave my husband's side. We completely oblige all of his whims as we love him – and at his age he deserves it!
Since then we look forward to each new stay, as each dog adds something new to our lives. It could be a cuddle when you're feeling down, a lovely walk when you really didn't feel like getting out, or the smile on an owners face when they pick them up. We are very lucky to have regular visitors and hearing about the ups and downs of life with each visit is a very special connection.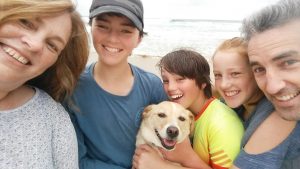 If your furry guests could talk, what one question would you ask them at a Meet & Greet? 
I would ask them what we could do to help them settle in? What is their favourite food they would like to have during their holiday? Do they sleep with their Owners and if so what can we do to help them sleep in a home without them?
What's your one top tip for new Pet Sitters?
I have found Owners and their pets are very similar, so if you feel uncomfortable with either it is best not to go ahead with a booking. Having said that, all Owners have something about their pets that worry them. It is great to find out what that is, focus on that, and reassure them that all is at hand. Anxious dogs need time and consistency; they will always relax in a loving home.
Are you a Victorian looking for an unparalleled Pet Sitting service? Book Donna and her family!
Comments
comments