In this guide, dog behavioural expert John Woods details the top hypoallergenic dog breeds for dog lovers with allergies. For an insight into all dog types great and small, visit our list of dog breeds. 
So, you or a family member suffer from allergies, but you can't imagine a home without a pet.
Can you consider Dog Ownership, or are you doomed to be pet-less forever?
Whilst no dog is allergy-safe, there are certain breeds which are less likely to cause a reaction in allergy sufferers. In short, it generally comes down to their coat.
Usually, when discussing dog coats, people use the words "hair" and "fur" interchangeably. However, there is sometimes an implied difference. Dog lovers often reference breeds with a double coat as having fur, while describing those with a single coat as having hair.
To make it easy, think "furry Scottish Terrier" and "hairy Poodle"! Why is this important?
What You Need to Know about Top Hypoallergenic Dog Breeds
Well, more often than not, allergy sufferers can better tolerate a dog with hair, as opposed to fur.
Double-coated breeds tend to shed a lot, which means the allergens find themselves in every nook in your home. Hairy breeds shed a lot less, which reduces the exposure to the allergen.
A common misconception is that people are allergic to dog hair – but this isn't the case.
Sufferers are actually allergic to a protein found in the urine and saliva of dogs. When the dogs groom themselves, the protein transfers to the hair/fur, which then finds its way into the environment. As a result, allergic humans can better tolerate dogs who shed less.
So which dogs are best for people with allergies?
Read on to find out more!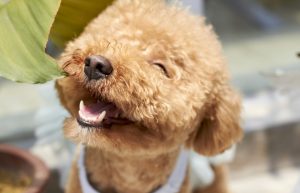 #1. Poodle
Not surprisingly, the Poodle is top of our list. As we mentioned, people often believe they have hair. In truth, they have a single coat, which doesn't shed excessively.
Not only that, but the tight curls trap shedding hair and dander (dead skin with attached reaction causing protein), reducing how much ends up in the environment around them.
Poodles also come in high on grooming requirements. With regular brushing, bathing and, clipping/trimming, the allergens are regularly removed from the coat and body. Poodles as a breed are also very intelligent, and come in second to the Border Collie. This means they are super-trainable and will excel at a range of activities: obedience, agility, flyball etc.
They come in three sizes: toy, miniature, and standard. This means you can find one to suit your lifestyle.
An energetic, alert, and trainable dog, they are perfect additions to active family homes.
#2. Kerry Blue Terrier
This breed quite often finds his way onto lists for the top hypoallergenic dog breeds, simply because they don't shed as much as other dogs.
Despite this, their coat does grow year-round, so regular grooming is essential. This also helps keep allergens at bay.
Originally bred to keep vermin at bay, the Kerry Blue is a strong-willed and spirited worker. They suit experienced handlers who like to keep busy.
Affectionate and loyal, the Kerry Blue Terrier is also a brilliant companion for families. However, they can be challenging with other dogs if their Owners don't socialise them enough.
#3. Afghan Hound
You'll instantly recognise the Afghan Hound from its long, silky coat. One could argue that because it's so smooth and silky, the allergens just don't hang around on this coat.
Couple this with regular vacuuming in the home, and you can see why they better suit allergy sufferers. Afghan Hounds don't shed as much as some dogs, which again reduces allergy exposure.
They are clownish, yet independent – perfect for an experienced handler who likes a dog with a little character.
#4. Moodle
One designer crossbreed of many, the Moodle is generally deemed hypoallergenic. We know the Poodle is less likely to cause a reaction, but by pairing them with the Maltese, you increase your odds again.
The Maltese also has a silky coat which sheds less than those of other dogs. It needs regular grooming, which can help keep allergens at bay.
If your Moodle ends up with a Poodle curl, dust and dander gets trapped in there too. Moodles adore human company, so you can be sure of their loyalty and devotion.
However, they are prone to separation anxiety, so they are better suited to those who can spend lots of time with them.
#5. Basenji
Interestingly, many recognise the Basenji for its inability to bark.
Yes, you read the right: a barkless dog. They have a short coat which sheds very little and they dribble a lot less than other breeds too!
They are affectionate and playful, but super intelligent and energetic. These guys are perfect for active homes and will thrive in activities like agility.
You will instantly recognise their small-medium body with their mischievous look!
Summary on Top Hypoallergenic Dog Breeds
While no dog is allergy-safe, but there are those less likely to cause a reaction for allergy sufferers. We have listed our five top hypoallergenic dog breeds, but there are many more. To ensure your lifestyles match, it's essential to research any breed before bringing them home. If you are struggling to manage your allergies with a pet, seek advice from your health care provider.
Comments
comments