If you've been wondering what is hiding in the cutest corner of the internet, we'll tell you: it's the most unlikely pairings of cats and their non-cat friends. We know that cats can make friends with other cats and we know that they'll open up to their Owners and loving Pet Sitters, but how about cats and members of the canine family? Or farmhouse animals? Or groups of monkeys?
We've put together a list of the cutest cat companionships you've ever seen. You'll swoon. You'll purr. Most crucially, you'll let go of any belief that cats are anything other than loving and sweet and openhearted. No more of this "cats are independent" nonsense. We're here to prove it.
Take a look at these most unlikely pairings between cats and other animals and let us know which one melts your heart the fastest!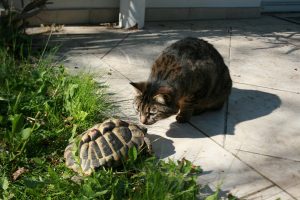 Otter pups and kittens in Somerset, Britain
The team at Secret World Wildlife Centre are dedicated to caring for animals in need. And sometimes that means relying on the most unlikely pairings to get the job done. Back in 2011, the team found a six-week-old otter pup abandoned on the side of a river. The same day, four kittens were brought in after their mother passed away.
Because the babies were all around the same size, they were placed together for warmth and comfort. And they loved it. Without the cuddle puddle, the otter pup may not have survived to be released back in the wild.
Cats and Monkeys: the Original Unlikely Pairings
We heard that there was a story about a cat and a monkey somewhere online. But when we went to find it, we stumbled upon something much more adorable.
Apparently cat and monkey friendships are common! You can see video after video on Youtube of monkeys grooming cats, cats playing with monkeys, and the two just hanging out together.
There's really so much footage out there that you can even find compilation videos. We're still trying to find our favourite.
Turkish Van and Fox
Imagine taking all of your fishing gear to a lake in Turkey for a relaxing day of casting your line and keeping an eye out for wildlife. Spotting a fox would be pretty special moment.
But then, you also notice that the fox is not alone. A white Turkish Van cat is in tow, trotting along with her best bud. How could these natural enemies become cuddly friends?
We're not sure how this happened, but one fisherman in Turkey saw it with his own eyes. Luckily he snapped a few great pics of one of the most unlikely pairings we could imagine, so that the world wouldn't dismiss the story as a fish tale.
Baby Alpaca and her Feline Family
Take a look at Lacey. She's just a run-of-the-mill fluffy alpaca. But she's had an interesting past. Lacey grew up not with other alpacas, but with a pack of cats on a farm. She was bottled-fed from a young age where she developed a love for her cat family.
You can find her perfecting her cat naps, learning the art of the kitty head butt, and laying out in the sun. These guys aren't only one of the most unlikely pairings but they're probably also the cuddliest.
Cats and Cows
You would assume that cats and cows wouldn't care much for each other. Cows are way too big to be feline pray, and cows are generally preoccupied with munching on grass and hay to think much about cats.
Yet, there are at least two recorded friendship stories between cows and cats that will make you want to cash out your life savings and start a dairy.
The first friendship we found was in Israel, where a stray kitty found her way onto a dairy farm and became just one of the herd. You can find her snuggling up to the newborn calves, ready for a nuzzle from the mama cow.
But this little no-named stray isn't the only example of these most unlikely pairings between bovines and felines.
Somewhere in the vast farmland of the U.S., Annie (cat) and Holly (cow) are just laying around in a barn, enjoying each other's company and reminiscing about old times. Holly isn't a milk producing cow and Annie isn't exactly a housecat, so the two have all the time in the world to sit around and be best friends.
Cats and…Rats? (These have to be the most unlikely pairings of all)
Cats are natural-born predators. In fact, they can inflict so much damage to natural wildlife that many vets and animal rights groups strongly advise that Owners should keep cats indoors.
So we were really surprised to come across examples of what seems to be the most unlikely pairings of all: cats and rats. But it's apparently pretty common! One famous example includes Peanut the Rat and Ranj the Cat, two American animals who love to spend time together. Ranj, an orange Tabby, apparently never got the memo that rats are delicious, so the two have become wonderful friends instead.
Which of these most unlikely pairings is your favourite?



Are you drawn to the fluffy alpaca cat cuddle puddle? Does the cat and cow friendship pull at your heartstrings. Or are you more of a canine and cat fanatic?
Let us know which of these most unlikely pairings you loved the most!
Comments
comments