Dogs are pretty incredible creatures. Not only do they provide us with endless entertainment and unconditional love, but they're pretty talented, too. From droving cattle on farms to helping protect the community in the police force, our furry friends are capable of so much more than we give them credit for – including helping those with disabilities and medical conditions live their best lives. So, before we get into what the top assistance dog breeds are, let's find out a bit more about the important work they do.
What types of jobs do assistance dog breeds perform?
There are generally three types of assistance dogs: guide dogs, hearing dogs, and service dogs.
Guide dogs (also known as seeing eye dogs) are trained to assist people who are blind or visually impaired. These clever pups enable their handler to live independently by helping them navigate their daily environments. They know which routes to take, when to stop at lights, and avoid tricky obstacles.
Hearing dogs, as you can probably assume from the name, assist people who are hard of hearing. They're trained to alert their handler to sounds that they may otherwise miss. Whether it's a doorbell ringing, a fire alarm, or even a text message, hearing dogs can notify their human of just about anything.
"Service dogs" is a broad term to describe dogs that have been trained to assist people with physical disabilities and certain medical conditions, developmental disorders, and mental health issues. They can help pull wheelchairs, fetch important items (like keys), and open draws, doors, and more. Some can also be trained to detect low blood sugar in people with diabetes. Even more impressive, they can alert people with epilepsy to seizures before they even occur.
When people think of assistance dogs, they tend to think of Labradors and Golden Retrievers. And while these two are used for very good reasons, you might be surprised to learn which other breeds are popular. So, without further ado, here are six of the top assistance dog breeds.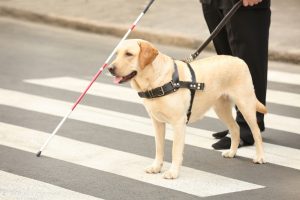 6 of the top assistance dog breeds
#1: Labrador
We couldn't start without the poster pup for assistance dogs, could we? Labradors are favoured for assistance work thanks to their high intelligence and strong work ethic. They're the most common breed used by Guide Dogs Australia, as well as most guide dog organisations around the world.
What makes them truly amazing assistance dogs, however, is their friendly disposition. The duties they perform are, of course, crucially important – but the companionship they offer is just as valuable. They're sweet, loving, and cheeky to boot, so there's sure to be lots of entertainment thrown in, too.
One thing to keep in mind when it comes to Labs is that if there's one thing they love almost as much as their human, it's food. Whether you're looking into a Labrador as an assistance dog or a pet, ensuring they receive portion-controlled, healthy dog meals is essential.
#2: Golden Retriever
Next up, it's the other breed you're probably used to seeing helping their humans live more independent lives. Golden Retrievers, like Labs, are smart, friendly, fast learners, and incredibly hard working. They are often used as seeing eye or hearing dogs, but where Golden Retrievers really shine is in emotional support roles.
These gentle puppers make for amazing therapy dogs, and you'll often find them working their magic in hospitals, aged care facilities, and even schools. And it's not just because of their calm, happy demeanor! Because Goldens are so sweet and friendly-looking, they can put just about anyone at ease.
#3: Poodle
Poodles are frequently ranked as one of the smartest dog breeds, and they can be trained to do just about anything. They're keen learners and absolutely love having a job to do, making them one of the best assistance dog breeds. Though they're not often used as seeing eye dogs, the Poodle is a popular choice for the hearing impaired, as well as those looking for a top-notch emotional support animal.
Not only do they thrive in these roles due to their intelligence, patience, and gentle nature, but Poodles are perfect for people with allergies. Their hypoallergenic, curly locks resemble human hair more than dog fur, which means less (or no) shedding. This is particularly beneficial for handlers whose physical impairments prevent them from being able to clean up the fur that often comes with Labs and Goldens. That said, Poodles do require regular brushing and grooming sessions to prevent matting.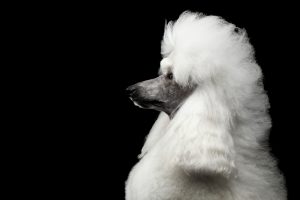 #4: German Shepherd
You'd be hard-pressed to find a more versatile dog than the German Shepherd. Originally bred to herd sheep, these handsome pups have proven themselves to be one of the hardest working dog breeds. From police work to acting, they can do it all. But did you know they also make wonderful assistance dogs, too?
Interestingly, German Shepherds have over 100 years of history as guide dogs. Nowadays, they've largely been replaced by Labradors and Golden Retrievers, but still have plenty of other assistance roles. Today, you can find them helping handlers with mobility impairments, monitoring blood sugar levels, and detecting heightened anxiety.
#5: Border Collie
Like the German Shepherd, Border Collies have a long history as working dogs. They're particularly valuable for farmers, who use them to herd livestock. Away from the farm, you can spot these delightful doggos assisting their handlers with common daily tasks. Because they're such fast learners, they can be easily taught to pick up dropped items, turn on light switches, and open doors.
One thing to keep in mind when it comes to Border Collies is that they're highly energetic. As a result, they need plenty of exercise and mental stimulation. For people with mobility issues, it could be worth enlisting a local Dog Walker to help meet your pup's needs.
#6: Pomeranian
Surprise! We bet you weren't expecting to see these balls of fluff on the list of top assistance dog breeds. Despite their reputation as spoiled lapdogs, Pomeranians are wonderful service dogs – not to mention wonderful companions. They're a great choice for handlers who live in smaller houses or apartments, as they don't require too much space.
You won't see a Pomeranian guiding a visually impaired person down the street or helping open doors, but they serve many other important duties. These sensitive puppers are particularly skilled as medical alert dogs. They're capable of sensing low blood sugar levels, alerting hearing-impaired Owners to sounds, and can even detect an asthma or heart attack!
Comments
comments