Intelligence can be a hard thing to measure in a dog. Some breeds can problem solve with the best of them, while others can herd sheep better than any human. There are those who learn commands after a few repetitions, and others who know what you're feeling before you do. Within breeds, there are also exceptions; some German Shepherds can be slow on the uptake, while we've met some French Bulldogs who could join MENSA. Finally, factors like home environment and healthy dog diet also play a key role. Even so, if we take these factors into account, can can pinpoint a hierarchy of the smartest dog breeds. And don't worry if your dog's breed doesn't appear on the list – they may the exception that proves the rule!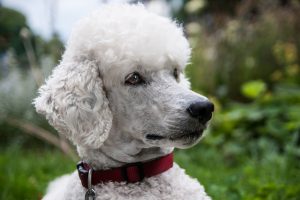 How to measure the smartest dog breeds
As many canine experts will assert, humans have a poor history of gauging dogs' intelligence. We tend to apply human metrics to them – which isn't fair, because dogs don't think like we do. However, canine psychologist Stanley Coren has come as close as possible; by surveying 199 obedience comp judges, he has ranked the smartest dog breeds by their working intelligence. Join us as we explore the top 10 smartest dog breeds!
10. Australian Cattle Dog
The first dog to crack the Top 10 also happens to be an Aussie. As their name implies, these dogs were bred to herd cattle on expansive farms. These days, they make stellar companion dogs – so long as they have ample space and a task to occupy them.
Don't let their reputation as guard dogs fool you – this pooch is far from a dopey ball of muscle. Like the Aussie Cattle Dog, Rottweilers began their breed history by working as cattle drovers. To this day, they retain the sharp minds they need to outthink steers and follow orders. Don't forget: thanks to their urge to protect their Owners, you'll need to commit proper time to socialising your Rottie. If you don't, they may end up lunging after a courier for simply bringing a package to your door.
The only mini breed to grace the list, the Papillon excels at agility training. Unlike the other breeds you'll find here, the Papillon didn't rise to acclaim as a working dog. Rather, from the 16th to the 18th century, they enjoyed renown as companions to the French aristocracy. Today, they fulfil a similar function – without the fear that their Owners will lose their heads in a revolution.
Beyond being Australia's most popular dog breed, the Labrador Retriever is also crazy smart. For this reason, along with their calm, gentle demeanour, they often serve as therapy dogs and seeing eye dogs. While the training process to be a service dog requires extensive effort, most Labs will learn household commands without issue. Just be sure to portion their food for each meal, instead of topping up their bowls throughout the day; a Lab's eyes will ALWAYS be bigger than their stomachs!
6. Shetland Sheepdog
The first sheepdog on the list, Shetlands display a far-ranging intelligence that serves them in herding work, agility comps, and loving households. As Collies, they feel an urge to herd and chase, which can pose a challenge for novice Dog Owners. However, if you keep them occupied with regular games and training, you'll have a gorgeous little genius on your hands.
Much like the Rottweiler, the Dobermann Pinscher makes a fearsome guard dog. In fact, unlike the Rottweiler, Dobermann breeders created the dog chiefly for this purpose. Due to a few tragic and well-publicised cases, there are those who view the Dobermann as a violent beast. However, as with all dogs, a brutish Dobermann is a reflection on their Owner, not the breed itself. With the right training and socialisation, the Dobermann can be a fearless guardian and a caring member of your family.
While they share much in common with their Lab cousins, the Goldie ekes out a slightly higher intelligence score. From narcotics detectors to seeing eye dogs, the Goldie can do it all. They also hold the world record for the loudest dog bark – but once your neighbours see their smiling eyes, they won't feel the urge to complain.
If you've ever watched Inspector Rex, seen a police K-9 in action, or witnessed a search and rescue effort, you'll know why this breed belongs on our list. Wherever you find trained dogs assisting humans, you're likely to find the German Shepherd. For this reason, the German Shepherd enjoys a reputation in many circles as the ultimate service dog. By the same token, they can struggle if left on their own for hours at a time. To do right by this breed, Owners must ensure they have ample time for training and enrichment.
To anyone who has only ever seen a Poodle in the park, this ranking may come as a surprise. However, in the realm of working intelligence, the Poodle outstrips all but one breed. This is likely due to their history as hunting dogs, although these days, they usually flex their grey matter in obedience comps. As an added bonus, Poodles don't shed their fur, meaning Owners have far less vacuuming to do.
Anyone who has ever owned, cared for, or met a Border Collie will barely blink at this ranking. Back in 2010, a Border Collie named Chase displayed the breed's brain power by proving she understood over 1,000 words. In most obedience comps, Border Collies will seize the gold. And if you're training a Border Collie, you can generally expect them to learn a command in fewer than five repetitions. Long story short, this breed is so smart that they may test the extent of your wits.
Do you think your dog belongs in the Top 10 smartest dog breeds? Let us know in the comments section!  
Comments
comments