Dogs often enjoy the title of best family pet, but this list of the best cat breeds for children is here to set the record straight! Sure, dogs are great, but these affectionate, friendly felines are ready to prove that cats can be the ideal addition to your fur-loving family. And don't assume that it will be just the kiddos who adore these child-friendly cats. Everyone in the family—plus your neighbours, friends, and local Cat Sitter—is sure to fall in love with these sweet little kitties.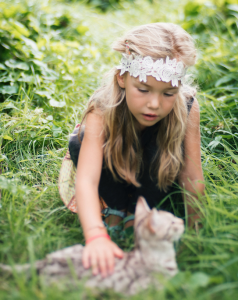 Persian
Persian cats are the ultimate family pet. They're people-oriented, friendly, and patient, and they love to lounge around wherever their beloved family happens to be. Persian cats are tolerant of loud noises, and even when overstimulated or bothered are more likely to retreat to another room than lash out. 
Ragdoll
As the story goes, Ragdoll cats are named after their adorable tendency to go limp when picked up. And it's true! Hold them in your arms for however long you like, this sweet little feline will be happy as can be.
It's this quiet go-with-the-flow attitude that makes the Ragdoll an ideal family pet. They have an astounding amount of patience and will always seek out the company of their beloved family members, big and small. And, because the Ragdoll is a direct descendent from the Persian, you can be sure that this cat is also affectionate and friendly.
Exotic Shorthair
Another descendent from our family-loving Persian, the Exotic Shorthair is another great choice for households with children. Slightly more playful than Persians and Ragdolls, the Exotic Shorthair is perfect for families who want their cat to join in the fun.
When playtime is over, you'll see how much of those relaxed Persian genes have been passed down to the Exotic Shorthair. This cat is an expert cuddler, and will happily settle in for family movie nights or mid-afternoon naps.
Maine Coon
If we could award any of the best cat breeds for children with the role of "cat nanny," it would be the Maine Coon. These gentle giants love children. They tolerate noise and rambunctiousness well, and they always want to be in the middle of the action. 
And, while these large cats are polite and well-mannered, they're also quite energetic! They make wonderful pets for children old enough to play with them.
Chartreux
Though often overlooked on lists of the best cat breeds for children, the Chartreux is a great family pet. Curious and calm, this beautiful cat breed will make friends with every family member, including the dog. What really sets the Chartreux apart is this cat's total silence. They hardly ever make a peep, which can be a bonus in an otherwise noisy household! 
Though they travel well—and can even be leash-trained—this cat would rather stay in the care of a friendly local Cat Sitter than tag along on family vacations.
Snowshoe Cat
Ever since Grumpy Cat graced the internet with her eternally angry face, this breed has gained global recognition and a bit of a reputation for a bad attitude. But even Grumpy Cat's Owners would tell you that these cats are actually a joy to be around.
Snowshoe cats are known to be loving, social and great with children. They are alert and playful, and will bring a smile to all family members with their goofy antics.
Domestic Shorthair
It might be surprising to see the Domestic Shorthair on a list of the best cat breeds for children. But the truth is, this is the most common cat breed in Australia, and the rest of the world, as well. They're the most likely to be chosen by families with children, and there's good reason!
Not technically a single breed, Domestic Shorthairs are a mix of different backgrounds. As a result, there's a wide range of personality types within the group, though many are mild-mannered and docile. If you're looking to welcome a Domestic Shorthair into the family, opting for an adult cat will allow you to learn more about their unique personality. That way, you can bring home a cat that you know will get along in your household!. 
Which of the best cat breeds for children is right for your family?
With so many amazing cat breeds to choose from, you might be wondering how to narrow down your list. Here are a few considerations that might help you find the best cat for your family:
Grooming needs.

Some of the kitties on our list of best cat breeds for children have specific grooming needs. Long-hair cats, like the Persian and Maine Coon, for instance, will need regular brushing. And, flat-faced cats, like the Exotic Shorthair and some Persians, can develop stains around their eyes without some help from their Owners. If your family is busy enough as it is, you might want to opt for a cat with fewer grooming needs.
Exercise needs.

An under-exercised cat is likely to find clever—and often destructive—ways to keep themselves entertained. The cats on our list are pretty mellow, but Persians and Exotic Shorthairs are the most laid-back of all.
Separation anxiety.

The more social you want your cat to be, the less they'll be able to tolerate alone time. Local Cat Sitters are great for keeping your cat company while you're away, but families who are out of the house constantly might want to choose a more independent cat, like the Domestic Shorthair.
How to keep your cat and kids safe
Even with the most child-friendly cat, there are still a few things you'll want to do to keep your family safe.
Always supervise cats and children

.

 

Teach children how to interact with their furry friends

. Remind children that cats are not toys and may not want to be picked up or handled. It can also be helpful to teach children to read their

cat's body language

for important cues on whether the cat wants to interact or would rather be left alone.

Make sure your cat has a quiet place to retreat

. One of the most important qualities in our list of best cat breeds for children is non-confrontation. These cats would much rather retreat into another room than lash out if they're feeling overstimulated, annoyed, or afraid. So, make sure that they always have an out and never feel cornered! 
These safety measures are important for your children and your cat. And, they'll ensure that your child is able to build a strong relationship with their cat that will warm your heart!
Will one of the best cat breeds for children become a part of your family?
Cats can be such a wonderful addition to any family. And with the best cat breeds for children, you can be sure that your furry family member is friendly, calm, and ready for all the cuddles that they're about to receive from their loving Owners!
Comments
comments