To anyone who knows pets, the words "dog" and "friendly" are almost synonymous. That's why debates around the friendliest dog breeds can be so hard to resolve. After all, nearly any dog with a loving home and patient Owners can be affectionate with their human family. Even so, there are some breeds that are renowned for being friendly with everyone – Owners, family friends, and strangers alike. While factors like training, socialisation, and healthy dog diet play a key role, some breeds are inherently more outgoing.
In this article, we list some of the friendliest dog breeds, and highlight what you can expect from them. Of course, this is by no means an exhaustive list. If you've met a friendly breed of pupper that doesn't appear here, let us know in the comments section!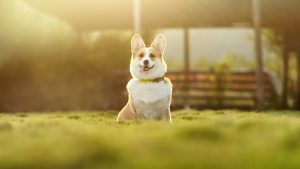 Friendliest dog breeds
At a glance, they more closely resemble wartime Prime Ministers than sociable pets. However, these barrel-shaped beauties are one of the most family-friendly dogs you can find. They're particularly good with children, with their docile nature making them a safe bet for pint-sized humans.  With that said, they'll also warm to strangers more quickly than many breeds. Just don't expect them to join you for your morning jog. 
Unlike some of the other breeds on this list, the Cavalier King Charles Spaniel was bred solely for human companionship. As such, it isn't a surprise to find this pooch on a list of friendliest dog breeds. This breed began their history as the faithful companions of King Charles I and his son, which explains the name. Today, they live alongside humans of all backgrounds. Even so, they haven't lost the social streak which endeared them to the former King.  
Okay, these are technically two separate breeds, so we know we're cheating a bit with this entry.  However, when it comes to social behaviour, they both rate a big mention. While these breeds have always served a companion role, they initially did so in fishing and hunting contexts. These days, fewer find themselves on hunting trips or fishing boats, but more live in human homes around the world. In fact, in Australia and the U.S., the Labrador has been the most popular dog breed for many years running. Anyone who has ever met either of these Retrievers will agree: they're quick to smile, fond of pats, and will lovingly slobber all over you if you let them.
Some might assume we've made an error by including this breed on this list. After all, thanks to a few misleading news stories, some people have assumed that Staffies are vicious by nature. In truth, these dogs are some of the most loyal doggos you'll ever find. Sadly, some heartless humans have exploited this breed's loyalty, and trained them to compete in dog fights. As a result, many people have come to equate Pitbulls (a parent term for breeds including Staffies) with bloodsports. Make no mistake: these case studies reflect the flaws of the Owner, not the dog. When they receive the care they deserve, the Staffy will be one of the most social breeds around.  
Another dog breed favoured by royalty, Corgis rose to fame as the dog of choice for Queen Elizabeth II. In recent times, they've also gained traction as the subject of hilarious online memes. However you've heard about them, one thing is for certain: Corgis love to love humans. As one-time herders, Pembroke Welsh Corgis evolved to keep their eyes on their Owners. That doesn't mean that they don't enjoy meeting new people – quite the opposite! If you take the time to fully socialise your Corgi, they'll be the belle of the dog park.
Needless to say, there are countless other friendly breeds which we haven't mentioned in this list. Tell us all about your friendly dog breed in the comments below!  
Comments
comments