Ever taken a look at your dog's tail and wondered why on Earth it's there? Aside from being a fun thing to chase, do dog tails serve any kind of functional purpose? Or are they merely a built-in play thing for your pooch? Just why do dogs have tails?
As it turns out, these furry extensions are actually quite handy for your doggo. Here's why.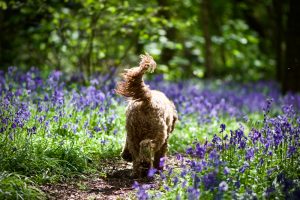 Why do dogs have tails?
There's no one reason why dogs have tails. Instead, they're multipurpose tools that can be used in a range of situations. 
To communicate
One of the main benefits of having a tail is that it allows your dog to communicate – with you, with other humans (such as their favourite local Dog Walker), and of course, with other dogs. 
You can often decode what your dog is trying to tell you by assessing their tail movements and tail height. Different positions and motions might indicate whether they're feeling playful, stressed, aggressive, or something else entirely. In fact, we've got everything you need to know about why dogs wag their tails right here!
To maintain balance
When we walk along a narrow or uneven surface, we use our arms to assist in keeping our balance. Since dogs are unable to do the same with their forelegs, that's where their tail comes in. It acts as a counterbalance, helping doggos stay steady when they're walking across a tricky surface.
To help them move around
Similar to helping dogs maintain their balance, puppers also use their tails to aid movement. Tails act as counterweights when dogs are doing sharp turns. They're also handy when it comes to accelerating and slowing down. Basically, tails allow dogs to do these rapid movements without falling over.
To spread their scent
We know puppers love to sniff each other's behinds. They do this as a form of greeting, but also to learn information about another dog. You see, there are tiny anal glands that sit right below their tail. These glands emit a unique scent that contains a bunch of key details about a particular dog, including their sex, diet, reproductive status, and more. Neat, huh?
So, what does this have to do with tails? Well, firstly, the tail helps tense the glands, which allows them to send out more information. As well, a wagging tail spreads a dog's unique scent around.
To address a bunch of other reasons
Aside from the benefits that apply to all dogs, there are some that only relate to specific breeds. Tails have a multitude of cool uses that allow various breeds to do their unique thing.
Labradors and Portuguese Water Dogs, for example, have thick, sturdy tails that act a bit like a rudder. This is really useful when they're swimming, especially given much of their work has historically revolved around retrieving things from the water. 
Cold-weather breeds such as Alaskan Malamutes and Siberian Huskies use their dense, furry tails to keep their noses warm when it's snowing. 
And Greyhounds' thin tails are particularly useful for running and switching direction at an incredibly high speed.
Why do dogs have tails that are curly, straight, or somewhere in between?
Aside from wondering, "Why do dogs have tails?" you might be curious about the shape of your doggo's tail. Is it long, thin, and straight? Or is it tightly curled over your pooch's back?
Most of the time, the shape of your dog's tail comes down to their breed. It's the same reason why individual dog breeds bear other unique traits, such as curly fur, pointy ears, certain colouring, or long legs. 
In all dogs, the tail is simply an extension of their spine. Dogs with curly tails, though, have fused or wedge-shaped vertebrae known as hemivertebrae. This isn't really cause for concern, but it is what causes their tail to arch over their back. Breeds with this kind of tail structure include Bulldogs, Pugs, Chow Chows, Akitas, and Spitzes.
Why are some dog tails cut?
Outside of curly and straight tails, there are many pooches who barely have a tail at all, or at most a short stub. This is known as a docked tail. But why do we cut dog tails?
Tail docking originated a very long time ago – as far back as the Roman Empire. At the time, the Romans believed that cutting off the tail would prevent the spread of rabies. Luckily, we now realise that this is a myth!
Other reasons why dog tails were cut in ancient times included supposedly increasing back strength; superstition (there was once a belief that evil spirits possessed the tail); separating working dogs from pets (the former had their tails removed); and simply because some ancient cultures thought it looked better.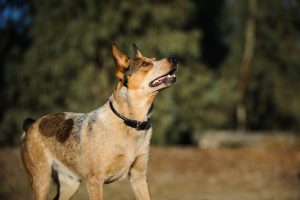 These days, tail docking is a pretty controversial issue. Many vets oppose the practice. Several countries – including Australia – have actually banned it unless there's a medical necessity. 
Even still, the reasons why dog tails are cut today include conforming to breed standards (there are actually several breeds that require docked tails to meet American Kennel Club standards); preventing things like faeces, burrs, and other foreign objects from getting caught in their tail fur; safeguarding against injury; and cosmetic reasons. 
In saying that, there are a few breeds that can have naturally stumpy tails caused by a genetic mutation. These include the Australian Shepherd, the Catahoula Leopard Dog, and the Australian Stumpy Tail Cattle Dog.
Comments
comments